SEN Classrooms: How to Design a Classroom for Children with Special Educational Needs and Disabilities
With more than 7 years' experience in designing, building and installing special educational needs (SEN) classrooms, The Stable Company have catered for almost every brief you could imagine, partnering with a number of schools to design learning spaces catered to their pupils' complex needs.

Some sites require a specialist approach because space is limited. Others, because the school in question needs the space to work for multiple classes; some want to increase the scope of facilities and engage more with the outdoors. These setups go far beyond accessibility, though this is undoubtedly crucial; they require high quality buildings that exceed expectations while being able to address a range of very complex needs. Each site is different, requiring a bespoke, tailored solution - and this is where our passion and expertise lies.
Designing spaces for pupils with special education needs and disabilities
Our experience encompasses the range of diverse considerations for designing SEN classrooms. This means understanding the day-to-day demands of these spaces and ensuring that pupils, no matter what challenges they face, are able to get the most from an engaging, stimulating and accommodating learning environment.
What are the key considerations to use as a starting point for a SEN project? We've pulled together some of our collective experiences.
Addressing children's special educational needs
SEN classrooms require planning across an even broader spectrum of considerations than traditional setups. Our ever-growing expertise in this specialist area has led us to break these considerations and needs down into four key areas:
Cognition and learning - Children with certain disabilities may require practical sensory or physical experiences to support the development of abstract ideas and concepts.
Behavioural, emotional and social - Children who have these needs may require a more structured learning environment, with clear boundaries for each activity and additional space to move around. This ensures a comfortable distance between themselves and others, as well as a safe place to calm down.
Communication and interaction - Here, the need is for an easily-understood environment with a low level of distraction. Sensory stimulus should be incorporated to to reduce anxiety levels. Children with these considerations may also benefit from having access to a safe place to calm down.
Sensory and/or physical - Classrooms for children with sensory or physical impairments may require special attention to acoustic and lighting conditions. In addition to specialist aids, equipment or furniture, there may need to be some may need extra space and additional signposting. This is geared towards helping the pupils negotiate their environment unaided and independently - an crucial consideration.
Considerations for your SEN classroom design: Getting started
It is important to think about children's SEN and disabilities from the outset. These children share the same aspirations as other children and want to use the same range of facilities. Any practical issues that may arise need to be addressed so that they don't detract from everyday experience.
An obvious but significant consideration is accessibility, especially if your space is planned as a flexible or multi-use space. Children navigating the room may be utilising walking aids, wheelchairs and more - it's essential to have the necessary space to facilitate their participation in solo and group activities. We address this through features such as ramps and low-level thresholds for wheelchairs and/or buggies.
Some SEN pupils may tire easily and will require a place to rest; routes around the classroom should be planned to minimise travel time. The design of these routes, as well as making it as easy as possible for children to move around, must give sufficient space for any equipment to be stored.
While they're a necessity, accessible facilities should be fun and engaging, too. We want all special educational needs pupils to feel comfortable, confident and independent wherever possible, so we include facilities that everyone could use without assistance, such as well-placed handrails, low level storage and appropriate door and cupboard handles - these help retain a sense of inclusivity for all pupils no matter what age or learning level.
When creating an optimised environment for learners with special educational needs and disabilities, there are a range of practical issues that need some thought.
Sensory elements - Control over lighting, acoustics, materials and textures can be essential in SEN spaces.
Health and wellbeing - The placement of appropriate toilets, showers and hygiene facilities needs thought. Frequency, location and accessibility of these facilities needs the utmost consideration.
Safety - You want to create an unobstructed space in which SEN pupils, or those with disabilities, can move freely and independently where appropriate.
Zones - It makes sense to maximise the space you have while factoring in quiet, calm and separate spaces for those who may need it. Depending on the needs of the pupils, this may include therapy and/or sensory rooms.
Access to the outdoors - Clients we've partnered with across education place growing emphasis on outdoor learning - and classrooms can be customised towards achieving these objectives for pupils with SEN. Often, our classrooms feature bi-fold doors, allowing for greater adaptation as well as the offering flexibility to in 'bring the outdoors in'. Canopies can be used to to protect from the elements and encourage the use of outdoor spaces.
It is absolutely essential to focus on creating a positive learning environment through good SEN classroom design. Understanding the users' point of view, the use of space, and the crucial role of a multi-sensory environment all contribute towards ensuring that the design is fit for purpose. How the building 'feels' and functions - as well as how it looks - is hugely important. A SEN build might need to adapt several times in a single day to fit to students' individual needs; so your building should fit sensory as well as practical elements.
Area guidelines for primary mainstream
Space (typical group size)
Area m2
Small classroom (30)

Up to 52
Standard classroom (30
56 - 63
Large classroom (30)
63 - 70
Small group room (<6)
9 - 12
Library resource
19 - 54
Food preparation room (15)
35 - 39
Science, design and technology room (15)
35 - 39
ICT room (15)
35 - 39
Music/drama studio (30)
50 - 80
Main hall
140 - 200
| Area guidelines for secondary mainstream | | |
| --- | --- | --- |
| Space (typical group size) | Zone | Area m2 |
| Small classrooms (30) | B | 49 - 56 |
| Standard classroom (30) | C | 56 - 63 |
| Large classroom (30) | D | 63 - 70 |
| ICT, business studies and languages (30) | E | 70 - 83 |
| Standard art room and science laboratory | F | 83 - 99 |
| Large art room (30) | G | 99 - 115 |
| Electronics and control systems (20) | H | 83 - 100 |
| Food room (20) | I | 100 - 107 |
| Resistant materials including CAD/CAM (20) | J | 107 - 119 |
| Music classroom (30) | D | 63 - 70 |
SEN builds in practice - Keelman's Way School, Hebburn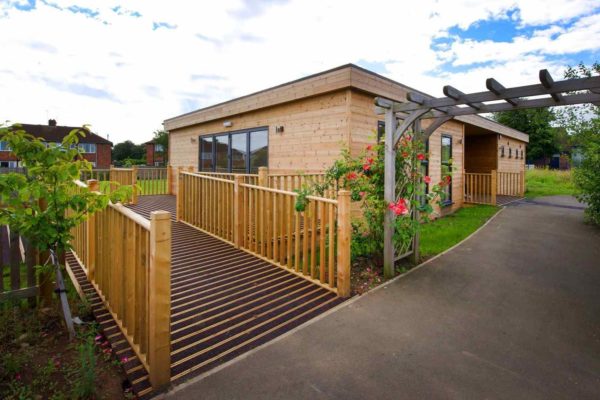 Keelman's Way required additional space to provide changing facilities for its disability football team, combined with teaching space that would help to meet outdoor learning objectives for the rest of the school. Created in 2012 in an urban area, the build was designed to be flexible, allowing use by the wider community in the long term.
Built on an ethos of belonging, the school were eager to increase their provision in a way which was sympathetic to the existing building, maximised available space and which reflected the fun, engaging and inclusive atmosphere promoted throughout the campus.
We worked with Keelman's Way on a building which met the range of complex needs presented by the student population. With considered design, well-chosen materials and a wealth of special touches, we aimed to create a bespoke build which performs both in terms of the sensory and practical experience.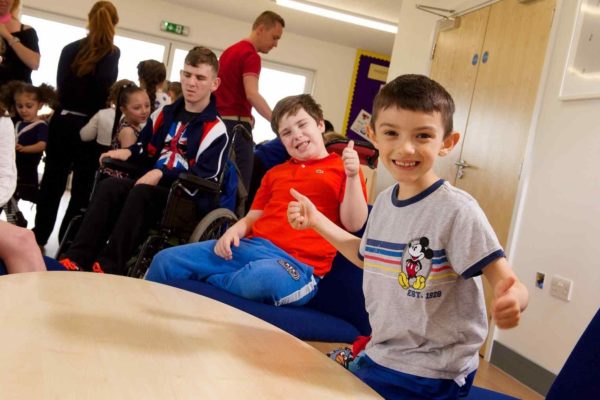 The outcome: 'The Hide'
The finished building is a single-storey timber construct, 138m², designed to complement existing amenity space practically and aesthetically.
The building was positioned on the edge of the sports playing fields and in close proximity to the outdoor learning space. We utilised natural, respectfully-sourced timbers to blend the building with its surrounds and used contrasting colours for external decking and doors to enable the children to navigate their way around.
A seamless transition from outside to inside was created with sliding folding doors and gently sloped access paths. "The Hide", as the school have named the building, gives off the visual impression of having always 'belonged' there - in keeping with Keelman's ethos.
The finished building contains a kitchen, two fully-equipped changing rooms for the disability football team and a generous teaching space.
"The Hide is a valuable and exciting new asset for our pupils and soon, the wider community. We are thrilled with the finished product."
Paula Selby, Headteacher at Keelman's Way School
Finding the right solution
It is vital you find the right contractor for your needs. If those needs are complex, which is often the case with SEN projects, you want a partner with the expertise and willingness to tailor their service. Your space is unique, and the facilities that come with your SEN build will need to be just as unique. This will ensure that everyone benefits and you get the right result from your investment.
If you're considering a SEN build, we'd love to hear from you. Get in touch for a no-obligation chat to discuss your ambitions.
Contact us now
Additional resources