Nursery and Preschool Classrooms
For over 15 years, we've partnered with nurseries to meet their varied needs with sustainable and highly-bespoke nursery classroom design solutions.
During this time, we've learnt that each and every customer is unique, with different demands for their building and individual project pressures. With growing pressure to increase placements and provision, many nurseries are seeking a price–quality building solution. Our in-house expertise allows us to offer a bespoke, one-off design to all customers, with a service optimised to capture their unique requirements. We create nursery classrooms which are designed to the very last detail of use.
The transition from home to nursery life is crucial – it's a child's introduction to the world of education, and their first step on an individual journey to greater independence. With preschool classroom design, there are a wide range of design requirements to consider at the outset; a child's development at this age calls for something quite different to 'any old building'.
THE PERFECT NURSERY BUILDING DESIGN: THE CONSIDERATIONS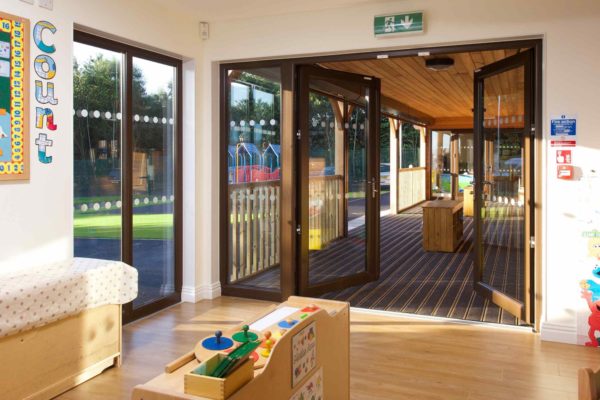 With nursery, preschool and reception classroom design, a good starting point is establishing how much space you'll actually need. Often, this is a balancing act of budgets, facilities required and the day-to-day interaction your pupils will have with the building. The building bulletins offer the following guidelines for classroom space:
Aged under 2: 3.5m² per pupil
Aged 2: 2.5m² per pupil
Aged 3-5: 2.3m² per pupil
Equally important is the shape and layout of the space; pupils need to be visible to staff members at all times, with no hidden corners. Learning through play is key and, with many nursery classes spanning a number of ages, segmentation of the space is important to allow appropriate play to each individual.
Fixtures and fittings should be carefully selected to be accessible to those who need to use them. Low-level sinks may be needed in classrooms, as may mixed gender toilets with space available for help. Another consideration may be cubicles which allow a line of sight to staff from the main space. Similarly, any Special Educational Needs or disabilities should be catered for, ensuring the transition to nursery life is a welcoming one for all.
Layout can also be utilised for improving security and safeguarding in preschool building design. A lobby with the relevant security systems ensures staff have the opportunity to manage who enters and leaves the building.
The day-to-day use of a modular preschool building can vary to quite an extent; some nurseries and preschools cater for a range of age groups, providing varying levels of service including hot meals or sensory rooms for those with special needs.
As such, facilities like kitchens need to be designed so they are accessible to their intended users, yet still permitting staff members appropriate control and awareness of what happens in the main nursery and preschool space. Features such as servery hatches, door locking systems or kitchenettes in the main space can offer further solutions, such is the customisability of our modular nursery classrooms.
OUR EXPERIENCE IN CREATING OPTIMISED BUILDINGS FOR NURSERIES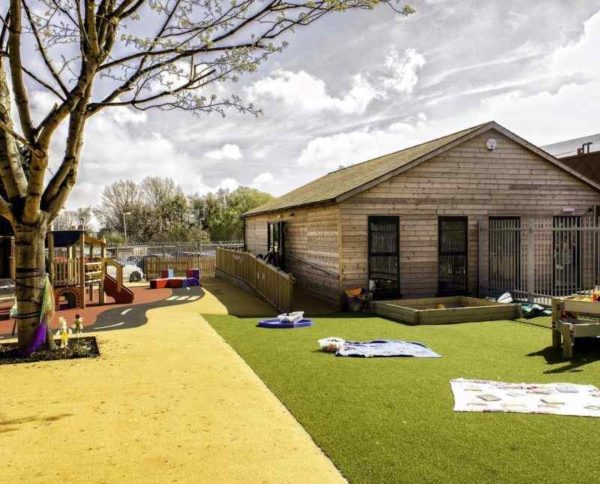 We've provided architecturally-designed, time-friendly solutions tailored to the needs of over 800 clients. This history and experience has afforded us the opportunity to iterate to the most effective solutions for the essential factors of heating, lighting and ventilation.
To engage and stimulate young minds, interior reception classroom design needs careful consideration. This may mean features such as textured walls, floor-to-ceiling windows — to bring the natural world into the classroom — and colourful walls offering a bright, vibrant space.
As well as providing spacious, exciting nursery classrooms, our buildings are a modular solution that is easily able to sit within — and enhance — surrounding grounds. They provide additional capacity without the costly need to expand existing architecture. Our in-house manufacturing facility allows us to guarantee our clients speed and ease of construction, with minimal on-site disruption. Timber's natural aesthetic can transform derelict land into dynamic, attractive self-contained space, apt for preschool exploration and learning.
Each and every customer comes to us with their own specific needs and business pressures. We've worked with all manner of nursery and preschool clients: private nurseries needing their first small outbuilding in a garden, regional nursery groups extending existing sites, through to schools adding to their provision with specialist facilities for new intakes. Browse through our case studies for a picture of the varying size and scope of projects we've worked on.
STRESS-FREE, SEAMLESS DELIVERY AND PROJECT MANAGEMENT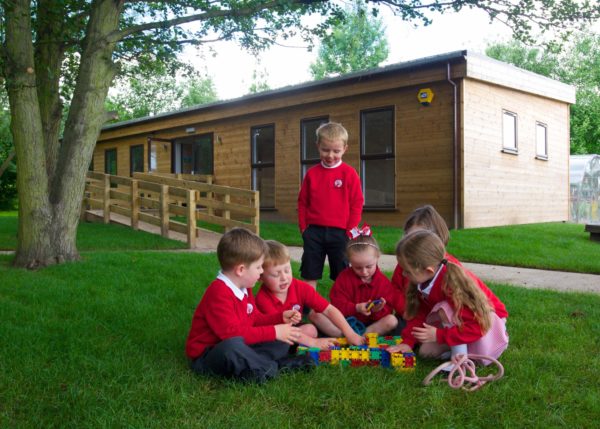 The current environment of stretched budgets means a cost-effective solution is imperative, both in terms of capital expenditure and the ongoing efficiency of the building. Nursery schools are increasing valuing sustainability in all business decisions — an area in which The Stable Company is committed to excellence. We're proud to offer a comprehensive, environmentally sustainable nursery building design service which affords financial savings in the immediate and longer term.
We work closely to ensure we balance all factors, exceeding customers' expectations with bespoke nursery classroom solutions.
As sector-specific experts in nursery and preschool classroom builds, The Stable Company offer a Complete Care service, utilising all their knowledge to take the stress out of the delivery of your project. The Stable Company has partnered with numerous nurseries to provide a turnkey solution to a wide range of needs.
Our Complete Care package eliminates the need to liaise with multiple suppliers; we're able to handle everything, from planning permission through to interior fit-out and the eventual handover of the keys of your reception classroom. Our Complete Care service has been developed and perfected through our many years of experience partnering with nurseries and preschools.
We value being able to offer the client as much or as little involvement in the delivery of their new nursery building as they'd like. This could mean intimate involvement with the whole journey, or just choosing the colour of the walls and floor! The sustainable preschool buildings we create are at the cutting edge.
Start your journey today with a no obligation chat to discuss your preschool classroom project; let's see how we can help.
Start your next project today