Independent Schools Classrooms
We've been working with independent schools for many years. We pride ourselves on delivering bespoke, dynamic timber classrooms to fit any design concept.
Tailored to your school
Every independent school is different. That's why the design process we offer is completely bespoke. The buildings we create are design led; we believe that there's no one-size-fits-all answer.
Only a classroom designed with your independent school in mind will cater to its exact requirements. Our timber classrooms have potential for an almost countless range of design possibilities, features and special customisations. We're proud to offer much, much more than an off-the-shelf service to independent schools.
Bringing bespoke classroom designs to life
We've designed, delivered and installed classroom facilities for many independent schools, such as Marymount International School, whose build is pictured.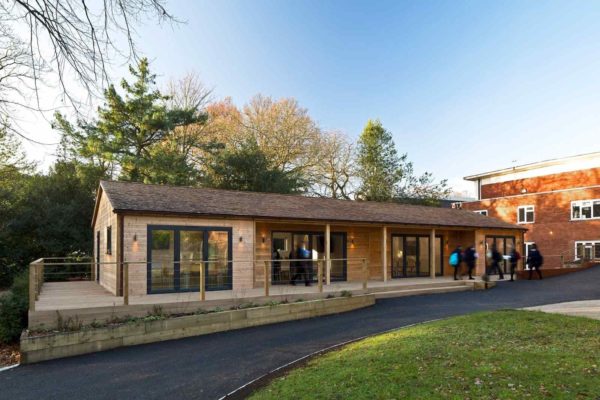 Our approach to designing school buildings means that every single feature is carefully chosen with the user in mind. The result? Dynamic, versatile learning spaces that add value for the learning experiences of students.

Independent schools we work with enjoy being able to see their project come to life on paper, which is why we employ the latest technology to produce 3D computer-generated sketches. This is then accompanied by a detailed specification document and costings.
The facilities we create blend seamlessly into their surroundings. We make use of the highest-quality, sustainably-sourced timber, with numerous options for environmentally-friendly roofing.
For schools with traditional buildings, these modular classrooms provide additional capacity without the costly need to expand existing architecture. These buildings transform previously-derelict portions of land into highly-aesthetic, multi-purpose education facilities. Often featuring decked areas, the architecturally-designed facilities we create are fully accessible for those with additional needs.
These are the ultimate in flexible, versatile, modern teaching spaces for independent schools. The facility pictured features six internal rooms, with a layout permitting alternative classroom organisation and shape. Several of the rooms are used for foreign language oral examinations, with other spaces easily adapted for lectures, exams, teamwork or group discussion
Bespoke down to every single detail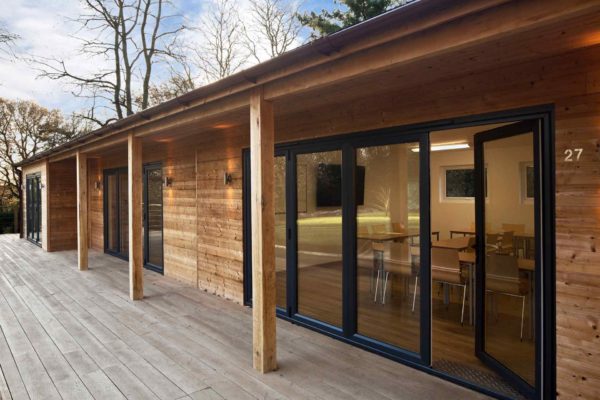 Whether exterior or interior, every single feature is chosen with the user in mind. We take an evidence-led approach to classroom design. For example, we know that research demonstrates that surfaces such as timber convey physiological benefits to users; they can reduce 'school-related stress', blood pressure, as well as even induce good behaviour. As such, many of the classrooms we've created are furnished with wooden surfaces, with layout fluidity promoting creative thinking and discussion.
The classrooms we create for independent schools often feature fully-retractable bi-folding doors, allowing rooms to open up. The strategic placement of large window panels allows natural light and fresh air to flood the classrooms; we also incorporate smart lighting into our school buildings. This causes lights to adjust according to the amount of natural sunlight in the rooms.
These classrooms are the pinnacle of environmentally-conscious building design. We take advantage of the latest technology, such as heat source pumps, to reduce reliance on non-renewable energy. Many independent schools value these classrooms as an environmentally and financially sustainable choice.
The way we work: stress-free project delivery
As sector-specific experts in the area of classroom design for independent schools, we're delighted to offer a Complete Care service to our customers.
This is a turnkey solution which utilises our many years of experience. Complete Care is exactly what it suggests: all stages of the project are handled by us, The Stable Company. It means we would liaise with all relevant suppliers and organisations on your behalf, seek planning permission, handle the construction and complete interior fit-out right through to the handover of keys.
Our Complete Care package aims to eliminate all stress from the building design process. We love being able to offer our clients as much or as little input in the building design process as they desire.
School buildings are a long-term investment, and sustainability is an area where we are committed to excellence. We aim to exceed expectations, delivering bespoke, dynamic timber-framed solutions.
Let's get your school building project off the ground: get in touch with The Stable Company's team for a no-obligation chat.
Start your next project today