Wood is good... for its speed
Posted:
It doesn't wait for anyone. It is of the essence. And boy, it can fly.
For those of you who are interested in not wasting your precious time, newsflash: timber is the fastest building material out there. When it comes to delivering extra teaching capacity, building that new office garden or meeting strict housebuilding targets, timber steps up to the task. So just how good is wood when it comes to speed, and what makes it so fast?
Timber can be modular.
Timber builds do, quite literally, spring up. This is because they can be modular - constructed off-site, at a dedicated facility, by a team of specialists. The completed components are then transported to the location, hoisted into position and integrated; this means the lead time can be as short as a matter of days. This has the added bonus of saving on costs (you can read even more about wood's cost-efficiency here).
A bit of rain isn't a problem.
Constructing with the more traditional building materials - brick or block - entails waiting for the materials to dry out, and work can be adversely affected by weather. If the temperature drops below 2 centigrade, brick work is usually brought to a stop. Timber, however, can be erected in extremely cold temperatures.
Those involved in working inside a new structure - electricians, for example - cannot work in exposed conditions. Because timber structures arrive on-site already pre-fabricated, this is generally avoided, speeding up the whole process.
Timber is abundant…
… whereas other, more traditional building materials certainly aren't. There are currently delays of up to 4 months on brick and block, with the Royal Institute of Chartered Surveyors (RICS) also finding that "60% of respondents have difficulty in finding bricklayers for projects". Certainly not what you want to hear if you're hoping for a speedy build.
Timber, on the other hand, remains readily available and 100% sustainable - and, as a result, waiting times are vastly reduced. Perfect for the increasingly demanding housebuilding market, we'd say.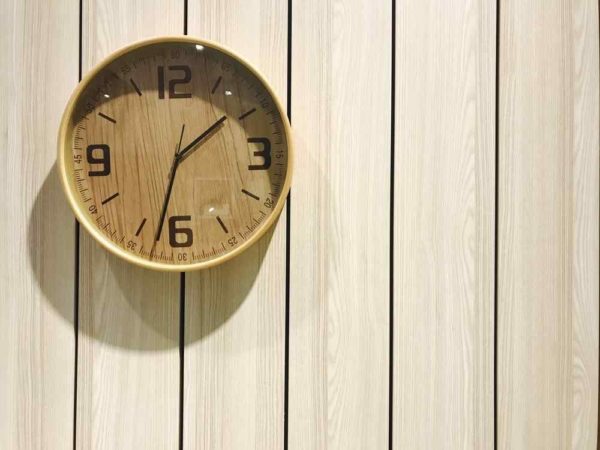 I wouldn't disagree with the UKTFA's claim that timber frame homes are on average 30% quicker than blockwork equivalents. If you take a look in our factory you'll see two men putting together a 6m2 panel in less than a minute, and it won't take them much longer to bolt it all together on site. Compared to the time it takes to lay blocks, and the time it takes them to dry out enabling future work, timber frame has to be quicker.
James Mortaccia from Potton in Homebuilding & Renovating Magazine.
Timber feels quicker.
Nothing can make a construction project drag on like the incessant drilling, banging and overplayed local radio beaming out all day, every day… for months. Because of the off-site construction element with timber, there is very little on-site disruption involved. This certainly makes it a win for those traditionally likely to be disturbed by a construction project; all those local residents or pupils in classrooms can thank timber later.
… and wood is clean as a whistle
There's nothing like piles of debris to remind you of that headache-inducing construction project. Because most of the work on the build is done away from the site, there's far less debris to clear away with a timber build.
Are you making this up?
Not at all.
Marymount International School's timber build may help assuage you timber doubters, and convince you of its superpowers. This independent school transformed some of its derelict land into stunning teaching space, in a remarkably short period of time. Strip footings were constructed and inspected within only 1 week. Since the end of construction at our facility in York, Marymount's beautiful ol' classroom was ready to host lessons after only three weeks.
We also sought planning permission on behalf of the school - which can usually be a drawn-out process. The turnaround for the entire project from seeking planning permission to the handover of keys was a short six months - not bad going, and a truly super-speedy way to get extra capacity.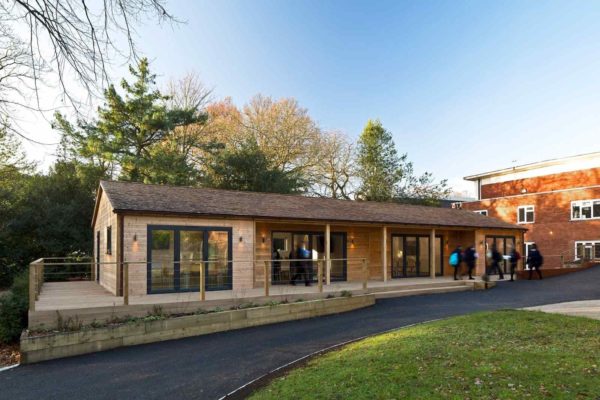 There you have it. With traditional materials in short supply, why not invest in the sustainability, beauty and speediness of wood?
Get in touch to see how we can beat the clock to unlock your next timber build.
Go Back
View all Blog posts