Posted:
It's no secret: timber is an amazing material for construction.
If you're familiar with us, you'll know that we never tire of espousing and extolling the virtues of this truly incredible building material.
We're delighted to announce that, recently, we were lucky enough to be featured in the popular equestrian magazine, Absolute Horse.
In it, our MD Gareth discusses why timber is, historically, such a hugely popular material for building stables. There's a whole host of technical, aesthetic and environmental reasons why wood is good for stables and their horsey inhabitants.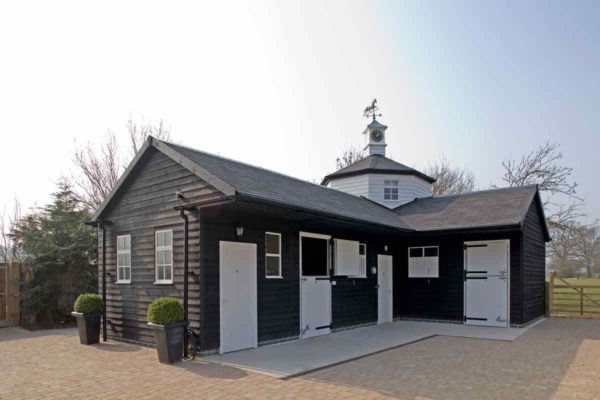 Here are just a number of reasons why timber outstrips its fellow building materials when it comes to stables…
Comfortable equestrian buildings: Timber is a natural insulator, performing 15 times better than masonry, 400 times better than steel, and 1,770 times better than aluminum.
Breathable stables: Timber is hygroscopic, (meaning it has small air pockets within its structure). This makes it breathable, exchanging moisture with the outside. As well as acting as a buffer against short-term changes in humidity and temperature, this fights against dampness — crucial for a stable!
The 'green' way to build: The building industry accounts for a staggering 40 percent of carbon emissions — but timber construction is a non-energy-intensive process that actually stores carbon from the atmosphere.
A barrier to temperature change: Timber acts as a barrier to changes in temperature, which means wood stables require less energy to heat and cool — better for the environment (and your pocket)!
The only limit is your imagination: Whether an individual stable block or an equestrian facility for a riding school — timber provides unlimited design flexibility.
Good-looking stables: Timber has a natural aesthetic that makes it a timeless choice for stables. Timber cladding can provide a seamless visual transition from woodland to stable, allowing buildings to blend in; designs can also be fitted to a certain period, with features including clock towers, clocks and weathervanes.
Easy on your pocket: Although costs associated with timber have risen over the decades, as a rule, wood is still the most cost-effective building material when compared to brick, concrete and steel.
A quick way to build: Due to the modular nature of timber (frames are constructed at a facility and then erected on-site), timescales are often shorter
You can read Gareth's full article — we're on page 54!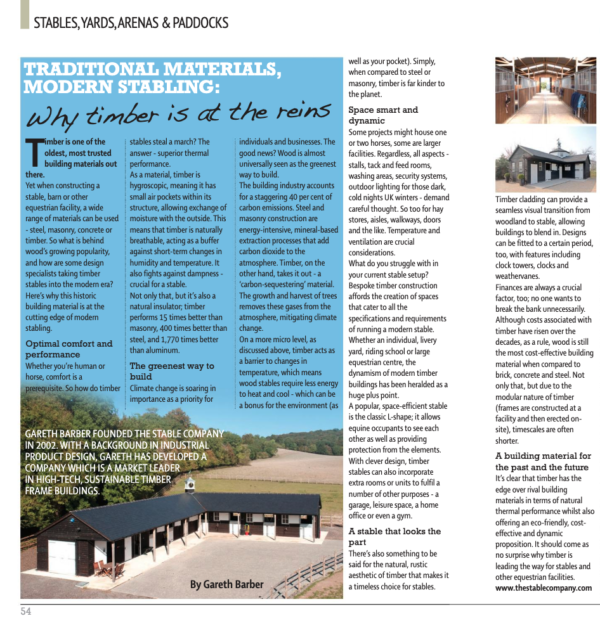 If you've read the article, we can't blame you if you're feeling enthused about the merits and virtues of timber.
If you're looking to learn more about timber stabling, we've got plenty of case studies and design ideas.
At The Stable Company, we design, manufacture and install bespoke timber stables. Each is designed down the finest details of its use — each a unique, high tech equestrian building.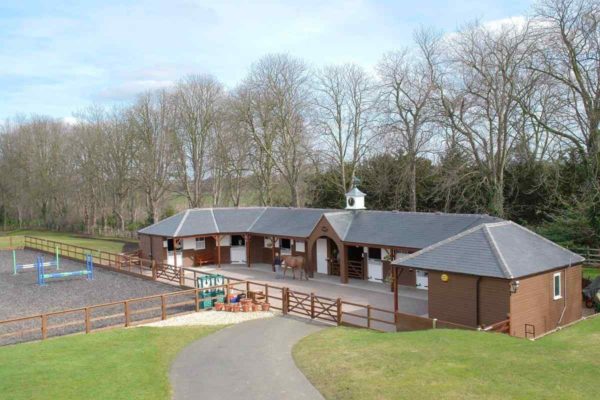 If you're interested in discussing a timber stabling project, our friendly team is only a phone call or email away for a no-obligation chat.
Go Back
View all Blog posts