5 Benefits of Timber Classrooms for Nursery Schools
Posted:
The pressure of growing pupil numbers transcends educational stages - nursery level is no exception. If you're involved in nursery education and are looking to expand provision, you may want to consider a timber modular building.
We've partnered with many nursery schools who have taken advantage of timber's ability to offer a dynamic, cost-effective and flexible solution. How could timber building help your nursery school?
Here are five fantastic reasons why we think you should choose timber for your next nursery project.
1. Facilitating learning through play
With growing evidence to suggest that diverse learning spaces are beneficial to a child's education, and when education is still centred very much on learning through play, timber classrooms are ideal for offering a playful, engaging environment.
Perfectly suited to this preparatory stage of education, timber modular buildings can be standalone facilities, often set away from a traditional building. Timber's ability to blend seamlessly into greenery and surrounding nature makes it a great addition to existing space.
When customised with bi-fold doors, canopies and green roofs, these buildings can make idyllic early years settings - as well as perfect for creating opportunities to explore the outdoors in a controlled, safe way.

2. Adaptability
Your nursery space might need to service several different functions throughout the day, certainly if you cater for a range of age groups. For example, some nurseries need to provide sensory rooms for those with special educational needs, or may have a service including hot meals. With modular buildings providing a wide open space, floor design can be used in various ways, with opportunities for segmentation and appropriate play.
Facilities like kitchens need to be designed so they are accessible to their intended users, yet still allow staff members to have the control and awareness of what happens in the main nursery space. Features such as servery hatches, door locking systems or kitchenettes in the main space can offer further solutions - such is the customisability of timber modular nursery spaces.
It's those special design touches that create a truly fantastic nursery classroom for all users.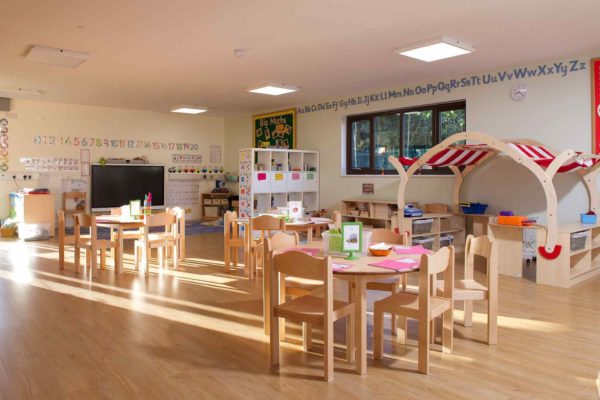 3. Accessible and safe
Where a traditional building may struggle, timber modular buildings can be designed with the need for accessibility and safety in mind. The young ones need to be visible to staff members at all times, with no hidden corners - with a well-designed modular building, the shape and layout of the space is able to be bespokely designed to reflect these demands.
Timber modular buildings can be fitted with fixtures and fittings that provide additional accessibility and safety for its young users. Low-level sinks, mixed gender toilets with extra space available for help, as well as cubicles which allow a line of sight to staff from the main space may be required.
Timber modular buildings allow you to cater for any young learners with special educational needs or disabilities - after all, the transition to nursery life should be a welcoming one for all. Timber modular building can also contain a lobby with the relevant security systems, giving staff authority over who comes and goes.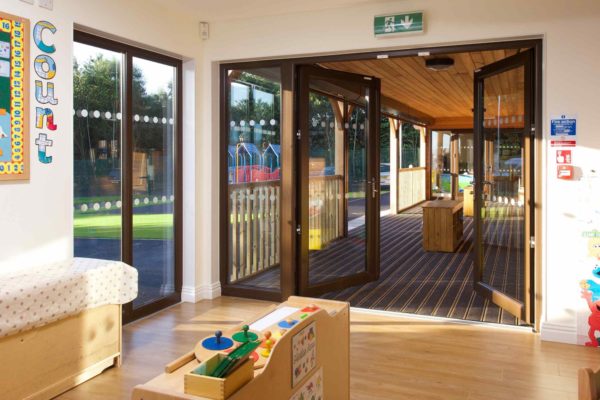 4. Comfortable
It's scientifically proven and shown that timber, specifically, is uniquely able to keep inhabitants at a comfortable temperature.
Timber is hygroscopic - that is, it's able to improve indoor air quality by moderating humidity levels.
Timber has a cellular structure which contains air pockets. These limit the material's ability to conduct heat - meaning users don't get too hot in the summer heat as they might in a brick or concrete alternative.
As well as users staying cool in summer, they also won't feel the chill in winter - because timber is also a natural insulator. Timber's air pockets also mean that heat inside doesn't dissipate; the result, a more stable temperature and comfortable learning environment. This has financial and environmental benefits - reducing reliance on central heating and fan usage.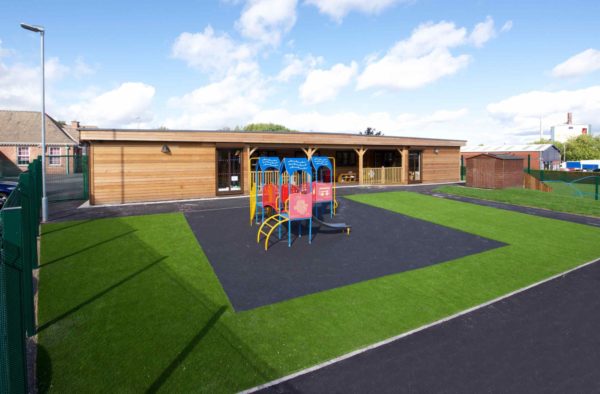 5. Budget, time and eco-friendly
With timber modular construction, money-saving and environmental-friendliness go hand-in-hand.
As we never tire of saying, timber is a 100% renewable building material (as it grows from trees which can be replanted, of course). And with the range of features that can be installed in modular buildings - such as energy-saving lights and heat source pumps - the savings are environmental and financial.
Also, because of the excellent 'green' credentials of timber modular buildings, many educational establishments have had success in acquiring grants or financial assistance for their projects. Check out our guide for more information! All of our suppliers are FSC-certified, meaning the timber we use doesn't contribute towards deforestation. Not to brag, of course.
Bear in mind, too, that modular buildings take far less time to be installed - meaning your nursery's additional provision is ready far sooner.
OK, I'm sold. How do I know which provider to choose?
The transition from home to nursery school is a big one - and the environment should reflect that; you want to choose a building provider with experience in this regard. This article we published contains some more information on our approach to these special buildings. No two nursery classrooms are the same, and neither are the various, specific demands placed upon them.
Our in-house expertise allows us to offer a bespoke, one-off design to all customers, with a service optimised to capture their unique requirements. We create nursery buildings which are designed to the very last detail of use.
As sector-specific experts in the area of nursery builds, we also offer a Complete Care service. This is a turnkey solution: we handle everything at our end, taking the stress and hassle out of the delivery of your project. Have a look at the work we've carried out for other nurseries to see what we could do for your nursery.
Get in touch with our friendly team of experts for a no-obligation chat about your nursery building project.
Go Back
View all Blog posts