Posted:
The Importance Of Age Appropriate Play
Play is a remarkably important activity for children of all ages. Choosing age-appropriate play activities isn't only about safety, it's vital for their early year's development. The right age-appropriate play exercises give children the chance to express and enjoy themselves, explore their imaginations, and develop crucial skills.
The type of play that's appropriate for a child changes as they grow older. For each age range a child goes through, parents and teachers should offer different activities. This will help support children's physical, social, and cognitive skills.
Let's explore some more of the benefits of age-appropriate play. How it's safer and more beneficial as well as some activities for children across different age ranges.
The Benefits Of Age Appropriate Play
Promote Healthy Growth
The NHS recommends that children and young people should participate in 2 types of physical activity: aerobic exercise and strength exercises. They should also aim to complete a minimum of 60 minutes of moderate to intense activities a day. These activities should vary to provide a wide range of benefits, such as developing movement skills, bone strength, and muscle growth.

Children need to take part in age-appropriate physical activities. For example, choose climbing frames kids can climb safely either on their own or supervised. If they need supervision and support, be sure that the responsible adults keep their eye on children using the playground equipment. Age-appropriate play that helps children keep active benefits them by reducing the chance of illnesses, lowers the risk of diseases such as diabetes developing and improves their strength and fitness.
Develop Social Skills
Age-appropriate play provides many opportunities for children to socialise. Around the ages of 2-3, when kids are toddlers, they start looking for activities where they can interact with others. Creative and collaborative play opportunities allow children to learn how to work together, express themselves, and learn important social skills.
Play equipment such as slides and swing sets, where only one child can use the structure at a time, teach children to wait their turn. This is a crucial skill all children need to learn during their early year's development. A situation like this also gives them opportunities to communicate, practice their speech, and make friends.
Cognitive Developments
Playtime provides many opportunities for cognitive development. Age-appropriate play activities help children develop a variety of skills such as:
Critical thinking
Problem-solving
Imagination & creativity
The right play activities support children's learning. It gives them a break from lessons, allowing them to let off steam and retain focus throughout the school day. However, age-appropriate play activities provide opportunities for learning through play.
Creative play often involves problem-solving tasks, as well as imaginative challenges that help children grow and learn. When children are playing with objects at creative play stations they're counting, examining, and creating. Dramatic play also means children are practicing their vocabulary and storytelling skills, which can translate to benefit their academic lessons.
How Age Appropriate Play Is Safer
Certain play opportunities are not safe depending on how old a child is. A piece of playground equipment that's age-appropriate for a 10-year-old, won't be safe for a toddler to use, even with supervision. Playground safety is essential for anyone responsible for a play area.
Ensuring children are using age-appropriate play equipment keeps them safe while they're having fun. Throughout their different age ranges, children vary in size and ability. Provide play opportunities for toddlers, 2 to 5-year-olds, and 5 to 12-year-olds. Age-appropriate play activities are better for children's development, more enjoyable, and safer.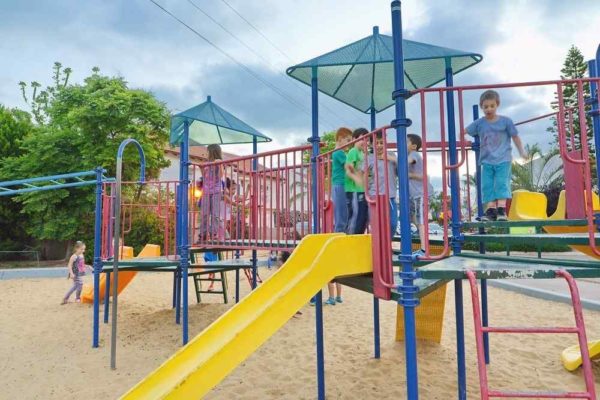 Go Back
View all Blog posts