Posted:
The older we get, the more our inner "creative genius" is silenced.
In a study of 1,600 five-year-olds, a whopping 98% were deemed to be "creative geniuses" - thinking in fresh, divergent ways. On reaching 10, this number fell to 32%, by 15 it became 10% and was only 2% by adulthood.
This is, unarguably, a colossal drop. It's also no coincidence. In plain English, the older we become, the more tapped into technology and weighed down by adult responsibilities we are - compound this with our hectic digital world, and it's no wonder that our "inner child", to whom creative genius comes naturally, is difficult to find.
Conversely to the way we live our lives, our "inner child" is a free spirit unbridled by responsibility who's further connected to nature and disconnected from the draw of technology (or, at least, that used to be the traditional order - children are nowadays more and more experiencing Nature Deficit Disorder, which is a problem on its own to be addressed).
Nature helps you to stop thinking.
As counterproductive as that may sound, it's actually a good thing. A lot to do with our increased creativity when in nature comes from the ability to stop thinking so much about everything. According to Outside Online's article The New Science of The Creative Brain on Nature, "the constant demands of emails, notifications, and general busy-ness put a significant burden on the prefrontal cortex of the brain - the region involved in multitasking and higher-order thinking (like critical thinking and problem solving). Those small demands add up to drain our attentional resources, making us distracted and cognitively fatigued—which in turn makes it more difficult to focus, think deeply, and come up with new ideas." However, when we're in nature, "the prefrontal cortex [where all this activity happens] is less active", and we are able to activate our inner "imagination network" - sifting through memories, engaging with mindful practice and allowing ourselves to be inspired by our natural surrounds.

In short, we feel more creative.
Nature boosts our creativity by allowing the brain to refocus. Attention Restoration Theory (developed by Kaplan) states that nature can help someone recover from the pressures of modern life. Looking at screens for a long period of time is a complex way of thinking and over time we become extremely tired. Our attention can be refreshed and revitalised in nature as we effortlessly and involuntarily notice other lighter things like bird song or the wind. Being outside gives our brain a break from such high intensity focus.
Some even believe nature brings us back to our "true selves".
Aidan Lee, owner of holistic training group FitRoots, thinks that exposure to nature keys in tightly with mindful practice - which in turn fosters creativity.

"Nowadays, we live in a continual state of stress, inflammation, isolation, and degradation of self," Lee comments. "We perform in ways that are abnormal. Nature is one of the few things that exists that allows us to revert back to our true selves - not impacted on by our increasingly superficial landscape.
It's in nature that we can access the best of ourselves: a state of being present, similar to what is achieved through meditation. This, in turn, helps us to think deeply - and truly become creative - with a relaxed and open mind."
Have you ever heard of "soft fascination"?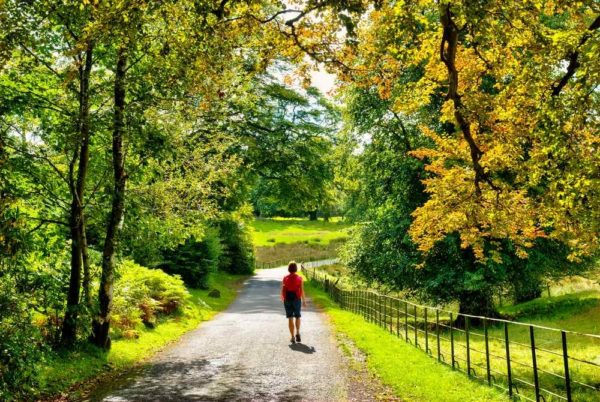 It's the term neuroscientists have coined to describe "the calm, meditative feeling you get when you're [in nature] and your mind is completely at ease, taking in the scenery, and maybe daydreaming a little."
This is the perfect frame of mind in which to reignite the imagination network, as observed by ecotherapist Hayley Gillard. "We live in a world where technology, advertising and social media bombard us," she says. "Everything around us is competing for our attention and our brains are in sensory overload - leaving us feeling dull, exhausted and - in short - a far cry from creative." Hayley then refers to Kaplan's Attention Restoration Theory - a study which explores how nature can help someone recover from the pressures of modern life, and notes that "our attention can be refreshed and revitalised in nature, as we effortlessly and involuntarily notice other lighter things like bird song or the wind". In short: we experience soft fascination.
Don't take the short cut.
Soft fascination is a state best cultivated by spending a long period of time in nature, according to Ruth Ann Atchley, associate professor and chair of psychology at the University of Kansas. Atchley conducted a study in which she and her team assessed a team of naive backpackers on a nature trail - discovering that they were 50% more creative after they had spent four days in the wild.
As part of their findings, Atchley comments, "[the advantages grow] over time to being in nature - [peaking] after about three days of really getting away, turning off the cell phone, not hauling the iPad and not looking for internet coverage. It's when you have an extended period of time surrounded by that softly fascinating environment that you start seeing all kinds of positive effects in how your mind works" - including in how creative we feel.

That's not to say that a sit in the garden or stroll through the park can't help if you're feeling creatively blocked - however, to nurture your creativity in a more longstanding, meritable way, it may be worth exploring how you can get back to nature for more extended periods of time.
Start with a "digital detox".
Perhaps you do walk through parks already on your way to work. Perhaps you already have a garden that you sit in. However, neither of these landscapes will benefit you if you're not engaging with them. If you're staring at your phone while you're walking through the park, for instance - you'll not feel much changed by the end.
We recommend "really getting away" (in Atchley's terms) from your digital roots where possible - from small initiatives, such as keeping your phone in your bag when you're out and about, to larger commitments. For example, Camp Grounded, a summer camp group in America, run a "digital detox" camp for adults in which all technology is abandoned for a long weekend, and attendants are able to re-immerse themselves in nature - ultimately engaging with it in an incredibly organic, imagination-friendly way. LIFEbeat, a similar group who run summer camps for teenagers, operates by a like-minded philosophy, Camp Director Kitty Jackson commenting:
"We are all creative, it's part of the human condition - but we need nature to help us unlock that part of ourselves. Being in a natural environment helps us to let go of our day to day concerns and worries and to find that stillness and peace of mind that opens us back up to being creative.
The proof is in the pudding - at camp, we run a really great workshop that involves going on a long walk through the forest and then pausing under a tree to sit, think and write. The results are amazing. The attendants surprise themselves. They create beautiful things.
There's something fundamental about natural environments that connects us back to our more basic sense of self, our true self. In nature, we can explore our inner worlds and reflect on our experiences. I think that's the basis of all great art and creativity."
Make areas of your home WiFi free zones.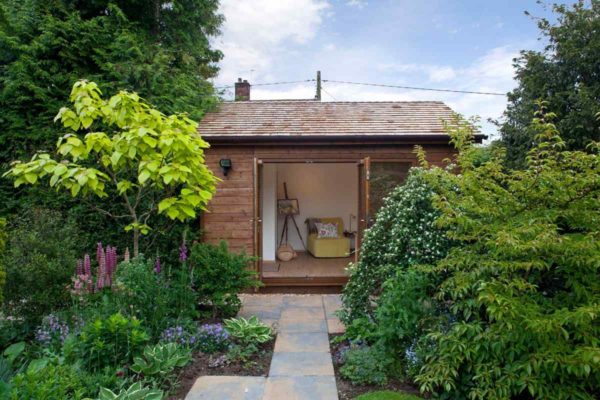 To help yourself re-invite creativity into your life, you can start by expelling what disconnects you from nature while you're in it - namely, technology/the internet. Declare your garden a "WiFi free" zone where phones and other technological objects are strictly disallowed (so you can get busy with becoming softly fascinated by your surroundings, instead).
Many people choose to build a garden room in their gardens to allow the creativity born from nature to infuse the more creative corners of their life. In the past, we have built an arts and crafts centre for a healing group (as nature breeds creativity, and creative enterprises have commonly been found to soothe and "heal" an anxious mind). Other clients have made their garden rooms into spaces to practice their creative hobbies, and freelance workers also commonly ask for garden rooms to inspire them at work while they're away from the house.
No more 2%.
Get back to nature, and have your "creative genius" born again.
Go Back
View all Blog posts