Posted:
How can a timber-framed modular building provide the perfect environment for a classic car, how much can they can cost and what are the design possibilities that exist? Classic car enthusiasts, right this way 👇
Why should I choose a timber garage for storing classic cars?
The benefits of timber-framed structures for storing classic cars mainly boil down to superior thermal performance:
Naturally-insulating - timber's structure is cellular, containing air pockets. These act as a barrier to cold, but also contain heat already within, keeping the building at a stable, consistent temperature.

Condensation-free: Unlike concrete or brick, timber is naturally free of condensation - which we know is a plus point for the storage of cars.

Artificial enhancements - timber framed structure contains cavities into which materials can be placed, meaning that insulation doesn't increase the thickness of the floor, roof or walls.

Dynamic and spacious - a timber-framed garage can be bespoke, containing as much or as little space as needed to work on and admire the garage's contents.
To discover even more benefits of timber-framed garages for classic cars, check out our blog post.
How much does a timber classic car garage cost?
The price of a bespoke timber garage can vary immensely depending on project size, and whether you would like the project installed, instead of simply just supplied. A single garage can be supplied at a cost of just over £3,000; a two-bay garage with a workshop from just over £6,000, and a four-bay garage with rooms above can command a supply cost of just over £20,000.
As mentioned, if you want a project delivered and installed, the cost rises substantially. Take a look at the garages design inspiration page to see the incredible, diverse range of bespoke garages and styles that can be chosen from - complete with guide costs.
What are the possibilities for a timber classic car garage?
The glory of timber as a building material is that it can conform to precisely your vision and individual requirements. This could take the form of a single car shelter, or a more complete scheme with its own room above, as well as stables and log stores. Timber-frame construction is able to accommodate almost any design idea.
A single-story building, with 1-4 bays, is one possibility. One particular client wanted a single-story build in which to house his classic car collection. This three-bay timber garage pictured below is complete with a T-shape barn.
The garage is a showroom-style building with a softer exterior - ideal for storing and showcasing a collection of vehicles. The garage was required to be spacious, bright and secure - light on the inside so that the focus of visitors was immediately drawn to the room's contents. The varied, polished timber on the exterior complements surrounding fields and trees.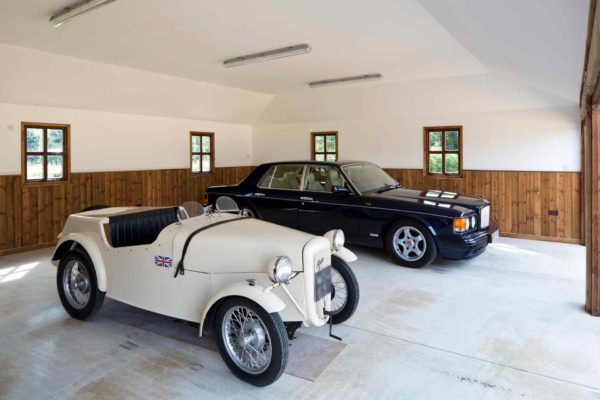 We've got plenty more inspiration for single-story classic car garages.
Can I have room above my garage?
If you want to maximise your investment, a garage with a room above is another design possibility.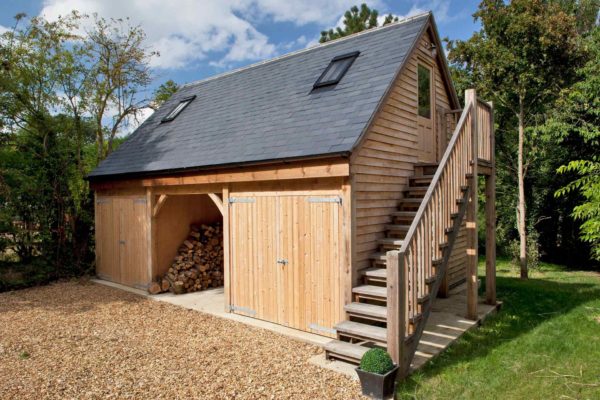 In the above example, a three-bay garage fitted with a 'room above'. The building is designed to blend into surrounding scenery; the additional space provides a storage and accommodation solution, making the most of the available space.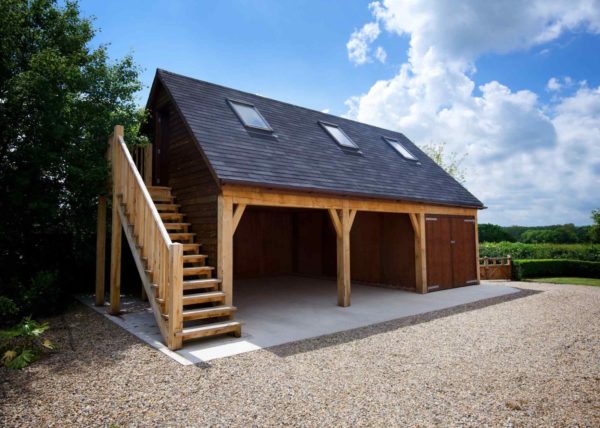 Here, a three-bay garage contains a room above, with flexibility at the heart of the design. Complementing the gorgeous surrounding area, the space acts as a strong and secure storage space for the owner's car collection.
We've got some more examples of garages with rooms above in our case study section.
What about an even bigger garage scheme?
If you're a classic car owner with requirements for something even bigger, consider a bespoke garage scheme. These specially-designed buildings can combine car ports with storerooms, stables, leisure rooms and more.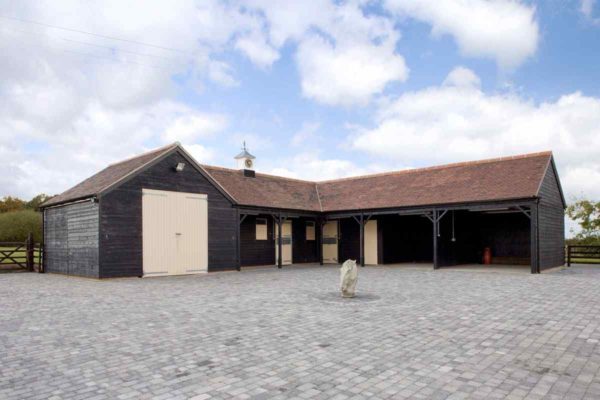 In this example, the garage building contains the garages in addition to three stables, a washroom and feed room.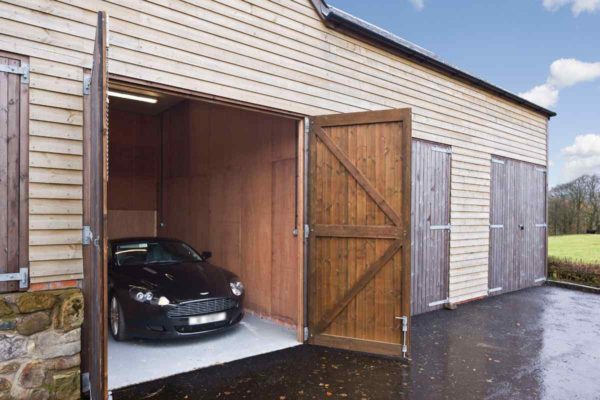 Here, the building showcases a scheme with a large garage, four stables, dog kennel, tack room and a store room. Our garage scheme case study section also contains more examples of bigger projects we've created.
If you want more abstract inspiration, check out our design ideas. This L-shaped garage scheme, for example, contains absolutely everything you could imagine: space for six classic cars, a room above, ground floor linked office space, a log store, as well as all the bells and whistles.
Our design service can be used to create something totally unique and bespoke to your individual needs.
Interested in a new, timber-y home for your classic cars? Let's get your project off the ground - get in touch with our friendly team for a no-obligation chat.
Go Back
View all Blog posts