Posted:
Are you looking to create a positive, engaging and responsive learning environment? Consider these top tips we've put together - a couple may surprise you!
What is an engaging learning environment?
An engaging learning environment is one that encourages pupils to connect with the teaching subject(s). With the correct consideration, a classroom can remove distraction, foster teamwork and put all focus on learning.
Four ways to create an engaging learning environment:
Classroom layout - avoid traditional rows and consider collaborative seating arrangements.

Furniture choice - colourful classrooms with various textures.

Clutter-free - keep the focus on the learning.

Outdoor learning - break monotony by providing stimulating breaks from the classroom.
What layout is best for an engaging, positive classroom?
Flexibility is key; try something new! Traditional 'soldier rows' should be avoided where possible.
For younger pupils, colour-coded floor space and mini-groups can help. Move your lesson from place-to-place. Apportion a certain amount of floor space for team-work with mini-groups; the use of these untraditional spaces is bound to get the creative juices flowing freely. These separate areas can serve a variety of needs - one, perhaps, could be a technology or reading area.
It's true, though: the traditional classroom setup is geared towards restrictive seating setups. For older pupils, think instead in terms of larger tables and non-linear desk placement. With the use of bigger tables, students have the chance to move around, make group discussion, have eye contact and interact with all classmates. And you don't need masses of space to do this, either - many teachers actually find that tables are more space efficient.
That said, space is often a critical issue. One other, perhaps more radical solution, is to invest in a whole new teaching space. Many schools, such as in the photos below, have taken advantage of the use of timber modular building; the wide, open space of the classroom is able to transform multiple times throughout the day.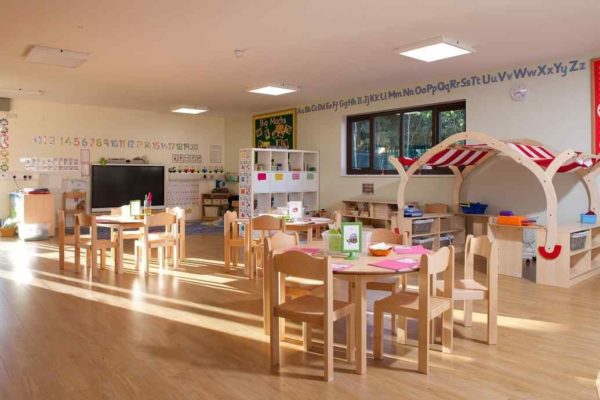 What classroom furniture should I choose to make learning more engaging?
Consider some fun textures and colours - they can actually have deep physiological effects. A 2012 study demonstrated the effect that the material of classroom furniture can have on the learning process - with wood being a standout material for boosting cognition.
44 elderly Japanese residents were studied in wooded surroundings - tables, chairs and tableware - and then analysed in similar plastic surroundings. The results show a marked increase in social interactions when in the presence of wooden products - that is, they were more talkative, open and willing to engage.
A 2015 study by Planet Ark makes abundantly clear the benefits of 'biophilic design' - where nature is incorporated into buildings and man-made surroundings. The use of materials such as timber has been shown to boost cognitive performance by connecting us to our outdoor surroundings.
Materials like timber appeal to our innate desire to interact with nature. The study Wood - Nature Inspired Design cites "improved mental engagement, alertness, concentration, physiological and psychological responsiveness" when wood is brought into an indoor environment.
By incorporating some brighter colours and unique textures into the classroom furniture, it's possible to reduce eye fatigue, too. Simply put - have fun, and maybe consider some wood!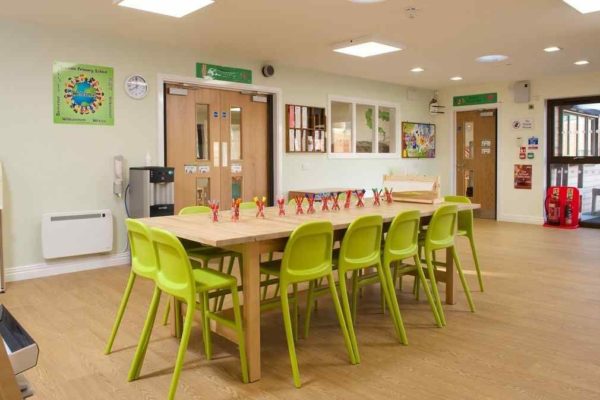 How can I ensure no distractions in the classroom?
It has an element of cliché about it, but a clutter-free classroom equals a clutter-free mind. Keeping things tidy is one simple way to keep the focus fully on learning. However, often, keeping things tidy is easier said than done. As a solution, many schools have taken advantage of modular building, which can have built-in storage areas to fight against the dreaded excess of materials and equipment that finds its way into classrooms.
Does it help to take learning outside?
For some time, educational focus has been shifting in favour of providing more outdoor learning provision. And if you think back to your school days, those lessons outdoors are always the most memorable and engaging. Getting outside is one way of breaking the monotony of the classroom and adding a new dimension to learning.
Choosing the correct classroom design can help facilitate outdoor learning. Modular buildings are stand-alone, sometimes situated on a previously disused site, but often bordering school playing fields. With features such as sliding doors, these buildings can 'bring the outdoors in', providing more readily-available outdoor learning.
Take Keelman's Way School, for example. Their timber classroom, affectionately nicknamed 'The Hide' by the children, has access to the school playing fields via large sliding, folding doors and decked ramps - in addition to numerous other bespoke adaptations. As a Special Educational Needs facility, the extra space and freedom afforded by the building's convenient placement is highly valued.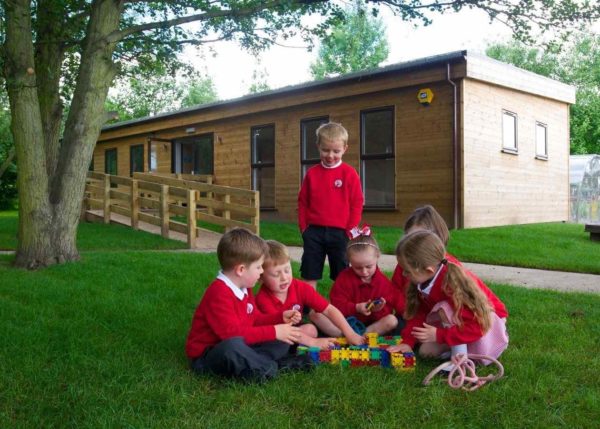 Looking for a modular classroom solution that ticks all the right boxes? Get in touch with our team for a no-obligation chat.
Looking for more tips and tricks for your school classroom? Check out our education blog posts.
Go Back
View all Blog posts