Posted:
"Our children with SEN benefit from how the outdoors relieves stress and anxiety, develops social skills, motivates learning across the curriculum (and beyond) and allows them to be practical, responsible and productive members of the community" - Emily Genochio, Sulivan Primary School (source)
Nature can be massively recuperative in a host of ways: academically, psychologically and emotionally being three of the chiefest.
Let's put this into an educational context. For pupils in general, it can increase their ability to learn and absorb information, while providing a creative outlet that enhances their imagination and life skills. Narrowing this down further - and putting it into the context of SEN pupils, specifically - this closeness to nature can increase confidence, help a SEN pupil to learn more engagingly and feel more 'free' - crucial for students who arguably have less opportunity to thrive, without hindrance, academically (compared to their non-SEN peers).
So how can an outdoors classroom help? Let's explore a few of the ways.
Sensory Play
"Taste, touch and smell, hearing and seeing, are not merely a means to sensation, enjoyable or otherwise, but they are also a means to knowledge - and are, indeed, your only actual means to knowledge." - St. Thomas Aquinas
Sensory play is well known to be one of the primary forms of educating young children - particularly in concerns to SEN pupils.
According to Pentagon Play, if a SEN pupil is open to tactile learning, sensory play can offer:
Improved cognitive growth and increased motor skills, helping them with day-to-day tasks;

Improved handwriting;

Enhanced memory;

Enhanced problem solving skills;

Further ability to engage with their peers and interact socially;

Basic sensory-based life skills (such as discerning whether something is 'too hot' or 'too cold').
Needless to say, the chiefest provider of sensory stimulation is nature itself - so it only makes sense that positioning your SEN pupils more closely to the outdoors can help them in acquiring all of these skills and attributes that come with sensory play. As the child grows more closely connected to their natural surrounds, learning in an outdoors classroom on a daily basis, their intelligence and imagination can only thrive.
New Challenges
Being outdoors (and thereby closer to nature) can additionally be very freeing for SEN pupils. Challenges are experienced in a new, fun - and natural - way, helping them to become more open-minded and able to adapt. The unmanufactured aspect of these challenges should further encourage the SEN pupil to think creatively in solving them - furthering their ability to think for themselves, and allowing them to naturally adapt to life challenges - a particularly prominent obstacle for SEN pupils, as they are often closely chaperoned and not given ample enough opportunity to exert their intelligence.
Succinctly, by positioning your SEN pupils more closely to the outdoors, they can draw from the natural inspiration your school's exterior landscape provides.
"SEN students have often learned helplessness and passivity because, consciously or not, we as practitioners exert a huge amount of control. [Going outdoors] forces us to relinquish that… giving SEN students that feeling of space - and the sensory stimulation that comes with being outdoors - [which is] vital." - Andrew Colley, lecturer in special education, in a report for The Guardian
Emotional Wellbeing and Engagement
Creativeeducation.co.uk (among other sources) cites that learning in close proximity to the outdoors often makes pupils happier - as their wellbeing, creativity and surrounds are all improved. This is key to their ability to academically engage (for SEN pupils in particular, who more often suffer from behavioural difficulties) - and therefore key in helping them to get the most out of their education, overall.
You can increase their chances of engaging with an outdoors classroom (and therefore emotionally invested/happy with it) if you principally include them in some way - helping them feel that the new space is 'theirs'. For example, the SEN pupils of Keelman's Way School - who we built an outdoors classroom for earlier in the year - had the opportunity to name their building, allowing them to more closely connect and feel enthused about the new space from the very beginning. They were reportedly 'thrilled' when it was ready for use!
Bespoke Builds
As this case study, again for Keelman's Way School, proves, each design we create (and building we deploy) is specifically tailored to your school and your individual pupil's needs.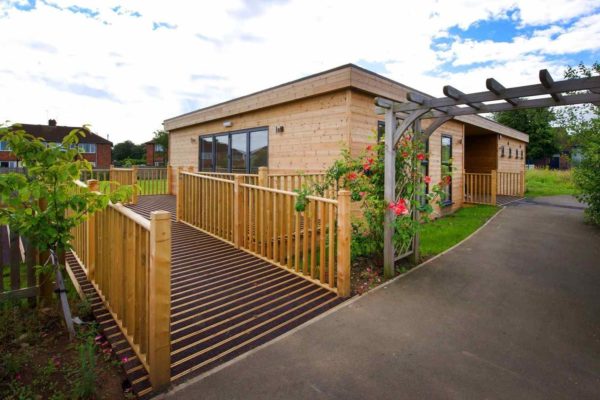 Safety is key. Your main school body might be full of hazards for a SEN pupil, which will be difficult and expensive to amend or remove - an outdoor classroom alleviates these issues by providing a safe, bespoke safe haven, tailored from the ground-up with all the additional features you could ever need to keep your SEN pupils safe and comfortable. One investment - an academic lifetime of peace of mind.
Interested? Drop us a line on our website's contact page, and we'll get back to you as soon as possible. Alternatively, you can browse through our educational case studies for further inspiration - we've got plenty of stories to tell!
Go Back
View all Blog posts