Posted:
At the risk of sounding rather clichéd, get that drum-roll going…
We've been featured in Timber Construction magazine's spring edition!
Or, more specifically, our MD Gareth has been.
Our article discusses the reasons behind timber's explosion in popularity in the education sector.
As you may know, our work with schools across the land has produced some incredible buildings: dynamic, progressive, eco-friendly classrooms.
From our experience on these education builds - as well as the bountiful timber expertise we've amassed on all those other projects - we were able to pull in our thoughts for a full-page feature in the magazine.
We touch on all those things that make timber such a glorious, adaptable and high-tech material to construct with, and why it's increasingly valuable to many schools.
It was challenging to get everything into one page - after all, timber is pretty great - but we think we touched on the most important things:
Timber can transform derelict land into extremely valuable space

Timber has hidden physiological benefits for pupils and staff

Timber is the most environmentally-friendly building material out there

Time is cost and time friendly!
A case study of the beautiful timber classroom we constructed for Keelman's Way Special Educational Needs school also sits proudly on page 25.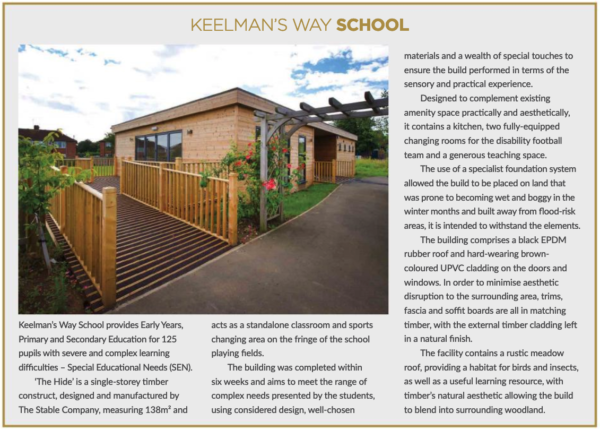 If you're interested in these education timber builds, we've got a little bit more information about some of the work we've carried out in our case study section.
You can read the spring edition of the Timber Construction magazine HERE - our feature is on page 20, and our case study is on page 25!
Go Back
View all Blog posts