Posted:
With many years' experience in designing and constructing beautiful timber garden offices and rooms, we've catered to almost every brief imaginable. Here, we want to share our expertise to help you get started on your garden office project.
Getting work done from home can be challenging. Let's face it, there are distractions everywhere. Significant others, television, household chores, children, deliveries — the list goes on.
As anyone who works from home regularly will tell you, it's crucial to have a space where work can get your undivided attention. This could be an office somewhere, or it could be your own hideaway at the end of the garden in the form of a garden pod.
So, if you're considering a modular garden office, there's a range of things to think about — designs, planning issues, potential uses as well as the provider you choose, of course.
Garden office design
Garden offices can come in all shapes and sizes. When considering the very first stages of design and planning, bear in mind:
The parameters available in your garden

The usage and function you require

Unique on-site challenges
With the space available, this might be restricted to a smaller, pod-like design. Your garden room might also require special arrangements to be made for accessibility.
Through our experience, we also encounter peculiarities and challenges with some plots of land; this might mean there's sloping, or it's prone to becoming boggy and wet.
The choice of timber will also depend on the aesthetic you have in mind; a naturally-appealing material, there are few environments in which timber doesn't work. For a more subtle appearance, perhaps in a built-up area, a dark staining job will provide a sympathetic, classy look. To blend seamlessly into surrounding woodland, a stunning medium or light brown also works excellently.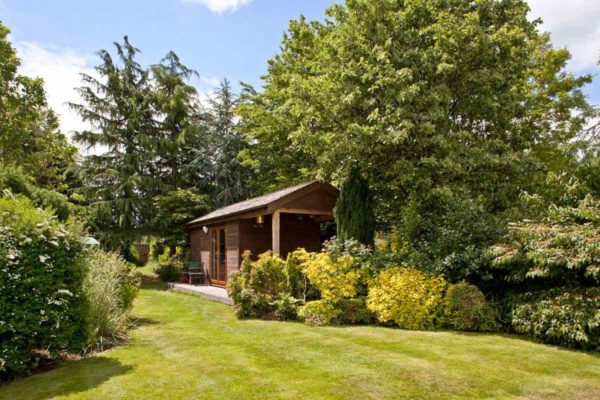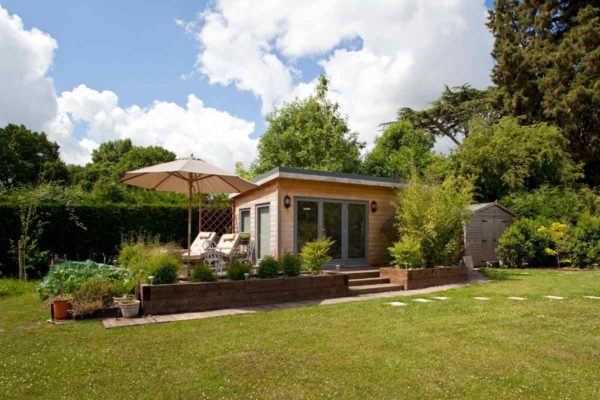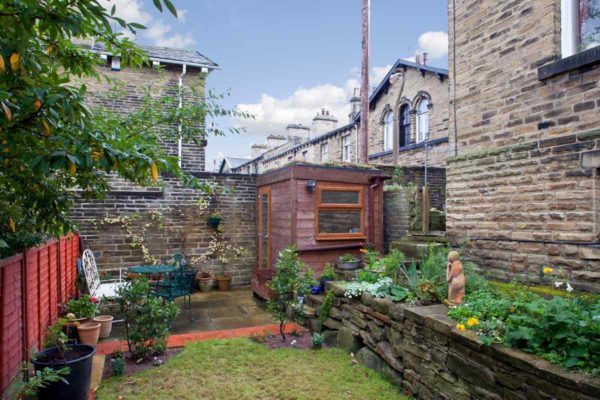 No two garden pods should be the same; each should be bespoke and considered, designed in a way to maximise available space. An architecturally-designed building will be exactly this.
Although every garden office should be different, it might also be helpful to take a look at our abstract design ideas for an idea of the possibilities and what might work for you.
The exterior design and interior fit-out of a garden office brings a range of extra considerations, too:
Lighting & shading — as a rule, maximising natural light is a good thing, so clever window placement is essential, with shaded areas also incorporated. The height of the sun during summer and winter needs to be considered. Overly harsh electric lighting should be avoided at all costs.
Windows — this ties into the above. They need to be carefully and thoughtfully incorporated, along with the use of blinds to manage shade. Although timber is a breathable material, windows play a key role in the building's ventilation.
Thermal & sound insulation — you want your pod to be comfortable, all year round. Fortunately, timber is a natural thermal insulator, but can be supplemented with insulating material in wall cavities.
Area design & zones — the interior will be catered depending on the purpose and amount of people in the garden office. Creating a multi-purpose space can be an exciting way of adding value and maximising investment. Perhaps you might opt for a working space and relaxation zone, with a sink area?
Flooring — wooden flooring is very popular; you might want to consider under-floor heating.
Walls — a pale cream or white is an uplifting choice that adds brightness to the room.
Doors — as with windows, careful placement is key. You might opt for sliding, full-length doors, allowing optimal ventilation.
Bespoke features — timber construction technology has advanced immensely over the years. It's now possible to incorporate features like air-source heat pumps, solar panels, eco-lighting, under-floor heating or 'green roofs', adding real value to your property.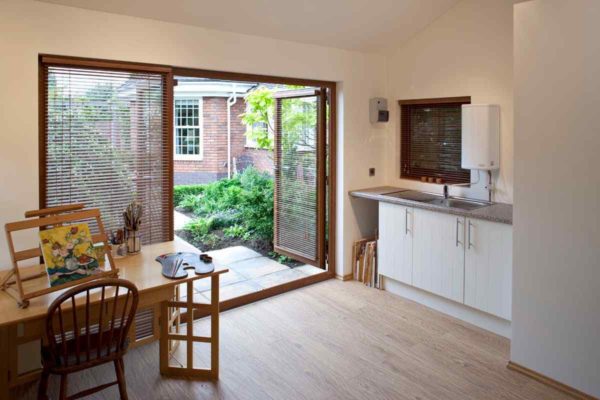 Do I need planning permission for a garden office?
Most often, you do not need to seek planning permission to create a garden office. In the UK, garden rooms usually fall within permitted development guidelines, and so do not require planning permission.
The building must be single storey, not exceed 2.5 metres in eaves height and must not contain sleeping accommodation. If all of these criteria hold true, then you will not need to seek planning permission.
For any garden offices that fall outside of permitted development guidelines, you will need to seek planning permission. At The Stable Company, we're able to advise and handle this as part of our Complete Care service.
Garden office inspiration, case studies, potential uses & interior ideas
Planning your garden office should be a fun, creative activity.
Depending on the space you have available in your garden, you might be envisaging a small, mono pod, or something slightly larger — such as a vista.
In order to maximise your investment and add extra value, you might want to give your garden office additional uses, to make it truly multi purpose. We've worked with many clients to create garden rooms that also function as:
Home gym
Games rooms
Breakout space
Art studio
Music room
Bar
Guest annexe for visitors
Garden kitchen
Hobby room
Rowing room
The possibilities are almost endless! Explore and be inspired by a selection of some smart garden office projects we've had the pleasure of working on…
Garden Office, Stratford-upon-Avon — A stylish mono room for use as a home office for a semi-retired couple.
Garden Room, Shropshire — A resplendent, multi-purpose timber garden art studio that also contains washing facilities.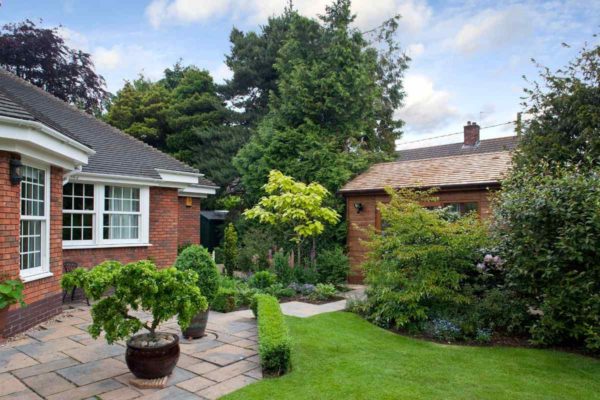 Garden Room, Bucks — A hobby room for a model train fan, tucked away and blended seamlessly into the end of a garden.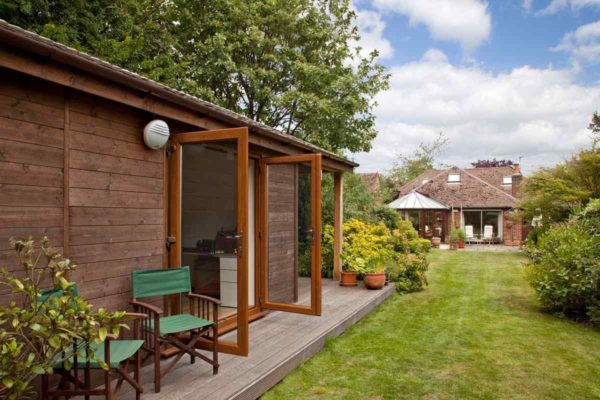 Bespoke Garden Office, Harrogate — A spacious, multi-use office space complete with a garden roof. This dynamic garden pod is complete with underfloor heating and a digital thermostat, in addition to a range of other unique features making for a unique garden room.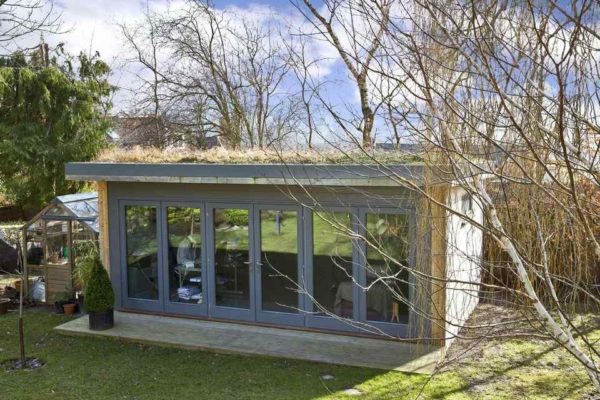 Bespoke Garden Office Pod, London — This is a rather unique project — it's actually a shared garden eco pod for hotdesking by flat residents! The pod's smart, architectural design allows for maximum use of limited space.
Bespoke Garden Office, Saltaire (Bradford) — This garden office pod is truly befitting of its historic surroundings in Saltaire. A sympathetic, rustic design couples well with the limited space available, giving the impression of having always belonged.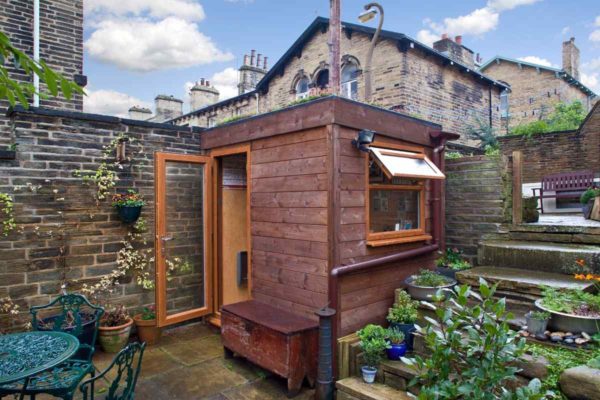 Garden Office, West Sussex — A discreet, stylish home office was the solution for this client who wants to separate work and home.
Garden Office, London — This beautifully-designed and clad building performs perfectly, with two desks.
Garden Office, Berkshire — Tucked away at the end of the garden, this eco pod offers dynamism and a new family the chance to escape the hubbub of the main house.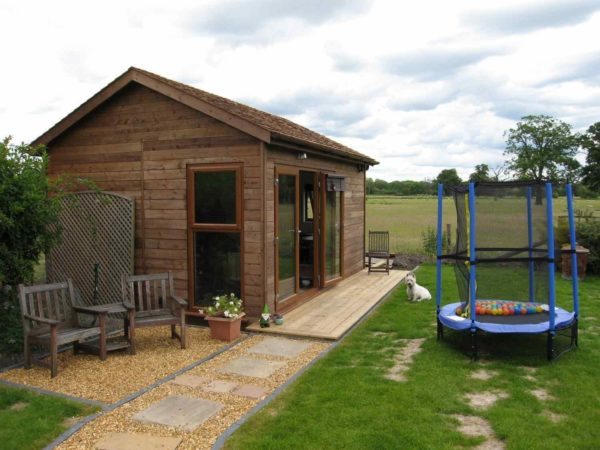 No two garden offices are the same — or at least they shouldn't be. For some abstract inspiration, explore these garden room design ideas.
Planning a garden office? Here's why timber is best
Did you know that construction materials can have a profound effect on the technical performance of a building — and even physiological effects on humans?
It might sound rather contrived at first, but timber actually makes us feel good.
Let's quickly explore why timber is such a popular material for garden offices, and why it bests other materials like brick, concrete and steel — your 'traditional' building methods and materials.
Timber can breathe
You need your garden pod to be somewhere that's comfortable all year round, whether it's the bitingly cold British winter or those sweltering summer's days — as rare as they may be!
Luckily, timber is a natural thermal insulator, with excellent thermal heat transfer properties. Its cellular structure allows the material to exchange heat with the outside, improving air quality, humidity and overall comfort.
In fact, timber insulates 15 times better than concrete, and 500 better than steel.
That's also not to mention that timber permits the easier installation of insulation in cavity walls, giving optimal insulation with less wall thickness. This keeps occupants comfortable in your garden office, all year round as well as making smart use of what may be limited space.
With wood, we feel good
Humans are 'biophilic' creatures — that is to say we have an innate attraction to all things natural, like wood and plants. Scientists and researchers suggest that this is an evolutionary predisposition.
Testament to wood's stress-busting effect is evidence suggesting that building with wood and other natural materials — 'biophilic design' — can reduce blood pressure, improve our mood and even facilitate healing.
Pretty fascinating stuff and very useful to know if you're creating a garden office — somewhere where you want to be able to relax and minimise stress, after all.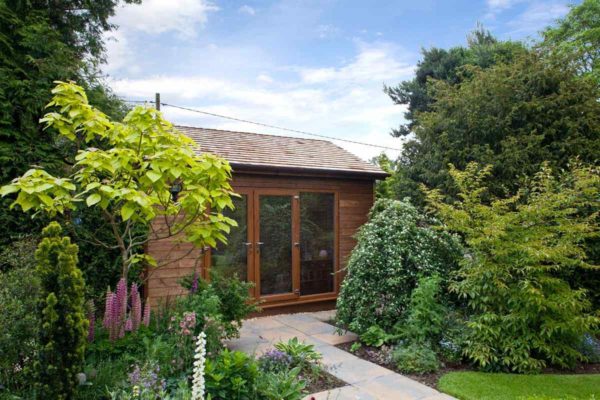 Endless design possibilities
Whether you're envisaging a three-bay garage with an office above, or a small, cabin-style modular garden room, timber is your key.
This design flexibility extends to interior and exterior features; your garden office could be completed with a garden roof, sliding doors and a number of other bespoke elements.
Also, let's be honest, if you're creating a garden room, you want something that's truly beautiful. A place that looks like it's always belonged, seamlessly blending into its surroundings.
In most cases, this is best achieved with a sympathetic, stylish timber design that complements surrounding greenery. The stunning natural aesthetic of wood makes it a timeless classic; a perennially trendy material.
Lighter on your wallet
Of course, cost is a factor. The good news for would-be timber constructors — as a general rule, projects undertaken with wood come in at a cheaper price than those completed with materials like brick or concrete.
Also, factor in the longer-term savings you make with timber. Because of the optimal thermal performance we mentioned earlier, you'll be making savings on heating and cooling.
Timber is less messy
No-one wants builders hanging around in their garden for any longer than necessary, right?
Timber is a dry construction method, whereas others are 'wet' — bringing with them more disruption.
Due to the off-site element inherent to timber modular construction, these buildings come with much quicker timescales, reducing time spent getting materials in place, and mess created thereafter.
Better for the planet
According to the UN Environment Program, construction accounts for 39% of energy-related carbon dioxide emissions.
So, whilst a home office isn't on the same scale as a housing development perhaps, choosing to build sustainably can only be a good thing for the planet.
In this regard, timber is the go-to home building material. Trees can always be replanted, meaning that with sustainable forestry, timber is a 100% sustainable, renewable and carbon-storing material.
Not only that, but it's very lightweight, making it fuel efficient to transport, as well as being non-energy intensive to manufacture — at least compared to other building materials.
Extraction-based methods like steel, brick and concrete rely on the use of Earth's non-renewable resources which, by definition, will eventually run out.
A nice bonus — because of the natural thermal performance and energy efficiency of timber which we already mentioned, you'll be cutting down on heating and cooling, which is also good news for the environment.
Choosing a provider for your garden office project
Your garden office is something that's as personal to you as it is important to your property. No one wants a shabby, rushed or inadequate job to be done, which risks reflecting badly.
That's why you should choose a provider that's got demonstrated experience in delivering quality, consistency and excellent customer care — we like to think that's us!
At The Stable Company, we've got over 18 years' experience crafting stunning, bespoke timber garden pods.
Over the years, we've developed refined and efficient project management techniques, as well as investing in the latest timber construction technologies.
This allows our customers to rest assured that they're getting a truly one-of-a-kind solution that's designed precisely for their parameters. No two customers or their needs are the same, and neither should their garden office be.
It's our mission to make our customers' experience as pleasurable as possible, which is why we created our Complete Care service. We're able to handle absolutely everything, taking your idea and working through all the possibilities — and, importantly, taking all the stress out of the process.
Think you might be able to benefit from a garden space of our own? Drop our friendly team of timber experts a note for a no-obligation quote.
The Stable Company: designing beautiful, architectural garden rooms since 2002.
Go Back
View all Blog posts