Posted:
When it comes to high-tech, modern teaching spaces, how is timber stepping up to the mark?
Independent Education Today magazine's June edition have run a feature about intelligent classroom design, touching on the various ways it's being used to reimagine the learning experience at independent schools.
We were delighted to share our thoughts with the magazine, including a featured case study from a project we worked on at Marymount International School. The standalone facility provides high-tech additional provision for a variety of learning activities.
If you know us, you know that we never tire of proudly banging the drum for timber, extolling its virtues. True to form, our article discusses the many, many performance benefits that timber offers over other building materials. We discuss the classroom's 'biophilic' intelligent design, as well as the many other features that were chosen to enhance the learning experience.
Three cheers for timber!
Check out the online magazine - we're on page 56!
Here's a sneak peek…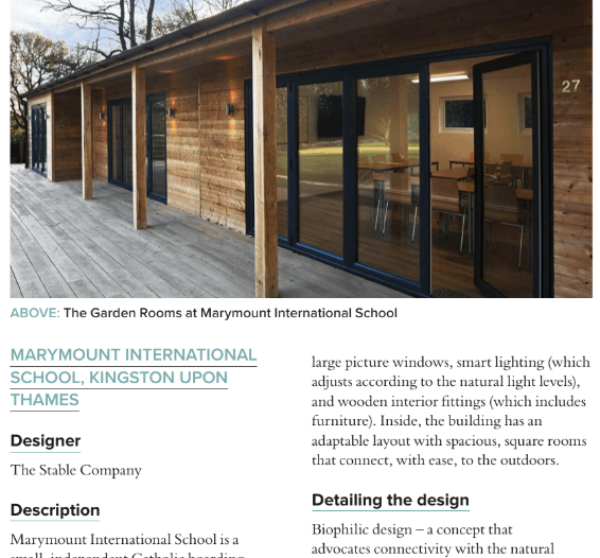 If you think your independent school could also benefit from a timber-framed classroom, don't hesitate to get in touch with our friendly team for a no-obligation chat.
Impressed? Great! If you've got a spare few minutes, why not also peruse some of our other education case studies?
Go Back
View all Blog posts