Posted:
The school environment is often called 'the third teacher'. Whether as a preschooler, older child, Sixth Former, University student or in the world of work, you're always learning - and your environment can have more impact on your experience and outcomes than you may think.
What are the various building design considerations for creating an engaging, positive and constructive environment? As timber construction specialists who love working on modular buildings for education, we thought we'd share our thoughts on how clever building design can be utilised to optimise the learning experience.
Surround yourself with the right materials
Nobody wants to be stressed - especially when learning. Finding ways to reduce this, therefore, should factor into any smart classroom design.
On this note, many teachers find that modular buildings provide a learning experience quite different from the traditional brick-and-mortar classroom. Timber is a material at the forefront of evidence-led design, and its use has been shown to present a series of physiological benefits to users. Wood has been scientifically shown to decrease your blood pressure, heart rate and stress levels; wooden wall panels 'had an emotional and natural impression upon humans', heralding a 'significant' decrease in blood pressure.
One study notes the impact of classroom furnishings on our behaviour, observing a marked increase in social interactions between participants when in the presence of wooden products - tables, chairs and tableware - as opposed to plastic. The subjects were more talkative, open and willing to engage. A further study, The impact of classroom design on pupils' learning, also finds that the 'classrooms with wooden furniture displays a bivariate correlation with the pupils' learning progress'.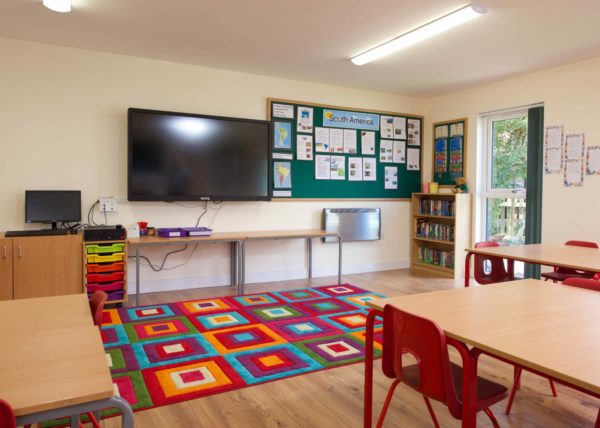 Lighting, lighting, lighting!
To facilitate optimal learning, each detail needs attention - lighting is one important factor. Whether intended for use by University students or early years toddlers, minimising artificial light is a good guiding principle for any learning environment. And where artificial lighting does exist, it needs to be of a good quality - it has been found that 'poor quality of electrical lighting causes headaches and impairs visual performance'.
Modular buildings are perfect for outdoor use, and because of their standalone nature, can be carefully designed to maximise the amount of natural sunlight in your classroom. Strategic window placement and light sensor technology are popular design solutions adopted by a growing number of schools. At The Castle Academy in Conisbrough, smart lighting dims according to the level of natural sunlight within the building, subsequently conserving electricity - an eco-friendly, money-saving bonus.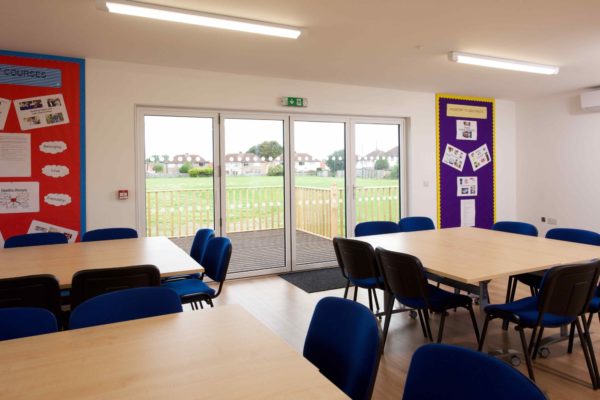 "Seven key design parameters have been identified as best predicting the pupils' progress. These were Light, Temperature, AirQuality, Ownership, Flexibility, Complexity and Colour."
The impact of classroom design on pupils' learning: Final results of a holistic, multi-level analysis
Comfort: part of an optimised learning environment
It goes without saying that it's important to provide children with a comfortable environment in which to learn - this means maintaining a suitable temperature, adequate acoustic insulation, as well as air quality. It has been shown that 10–12 years old pupils performed better on numerical and language test speeds when temperature was reduced slightly and ventilation rates increased. There's nothing worse than being sticky or sweaty on hot days.
The question is: how do I achieve these optimal conditions?
Luckily, timber is hygroscopic - meaning it's able to improve indoor air quality by moderating humidity, and it's no secret that timber's natural qualities make it ideal for helping to keep its inhabitants cool. Despite already being a natural insulator, further artificial insulation can assist wood's low thermal heat transfer, keeping everyone cooler in the summer and warmer in the winter.
Minimising noise disturbance is a no-brainer, and studies back this up - classrooms 'a large distance from traffic noise or presence', or containing a 'buffer zone' are those with optimised academic performance. Modular buildings, often set away from busy areas and able to incorporate acoustic insulation to prevent disturbance from adjacent rooms, tick these boxes.
Four key ingredients to an optimised learning environment: air quality, noise, temperature and lighting. Tick these boxes and you'll be able to rest assured that you've provided a cracking classroom for learning and teaching.
Browse our education case studies for some inspiration for some inspiration for your next school and nursery project.
Want in on it? Get in touch with our friendly team for a no-obligation chat.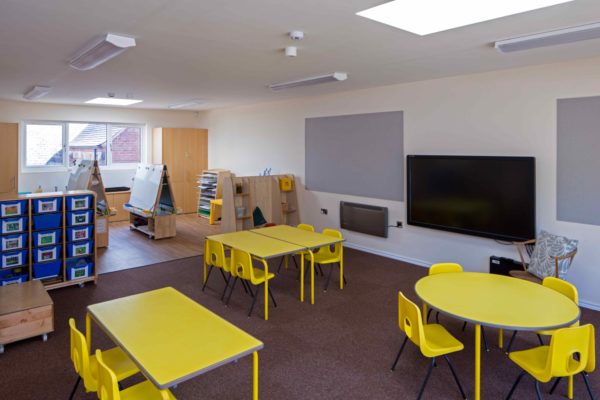 Go Back
View all Blog posts