Posted:
Who wouldn't want to add more value to their house?
Looking to maximise the use of your property? A garage, carport or similar outbuilding could be exactly what you're after. Freestanding garage buildings are growing in popularity, and bring more possibilities than simply a storage area for vehicles.
But which construction material is best? If you're in the early stages of thinking about adding a garage to your property, you may be weighing up whether a timber (or wood) frame or bricks-and-mortar garage is the most suitable.
Depending on your needs, both options have plus points… but let's explore more.
What is the difference between timber and brick garages?
Timber garages have a frame made up of posts and beams, clad in timber. They're available as pre-built structures, or as bespoke buildings. Brick garages are constructed from scratch using bricks and mortar.
Brick garages can have a variety of styles which can be matched to suit your property. Consideration should be given to the surroundings to ensure minimal aesthetic disruption.
Wooden garages, as you might imagine, have a 'natural' aesthetic by virtue of their timber-clad exterior. For many, this gives them a discernible benefit: they have the ability to blend into the surroundings. This allows a seamless visual transition from the outdoors to the garage itself, giving the building the sense of having always 'belonged'.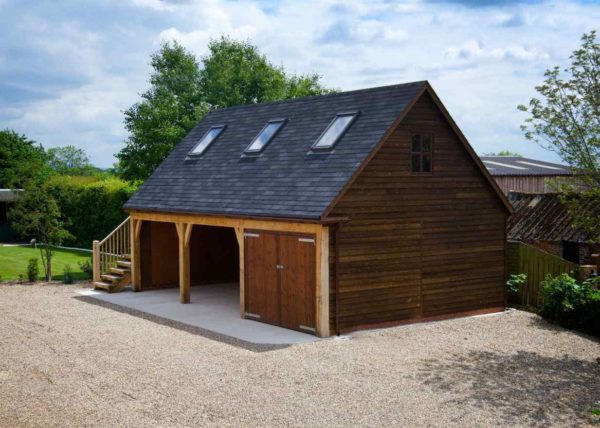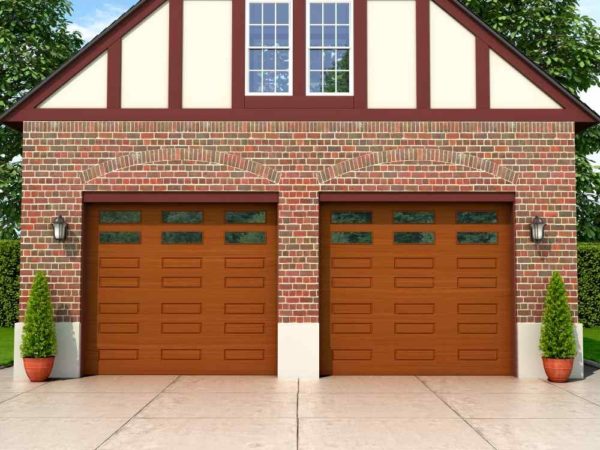 Timber vs. brick garages: Dynamism
If you're investing in a new outbuilding, it makes sense to want to maximise your investment. Both timber and brick are excellent for creating bespoke, tailored spaces — why not consider a garage with room above?
With advances in timber construction technology, timber garages are commonly doubled up as an office, leisure area or even home gym. It's possible to create spaces that are the focal point of the property — whole new living spaces — adding real value.
Brick and stone garages are excellent for creating smaller spaces, such as carports. Indeed, they can be 'maximised' with additional rooms, but it can become more expensive to scale them up to include added-value features such as a 'room above' when compared to timber construction.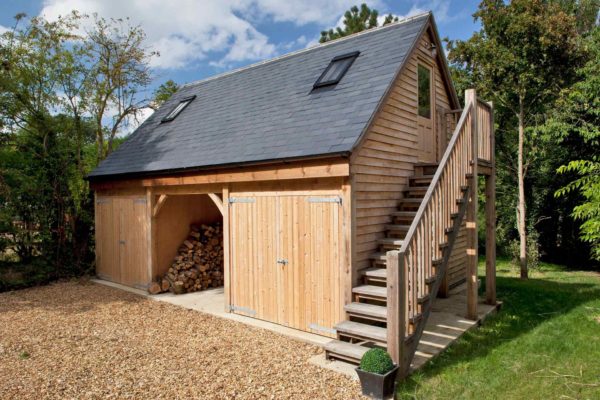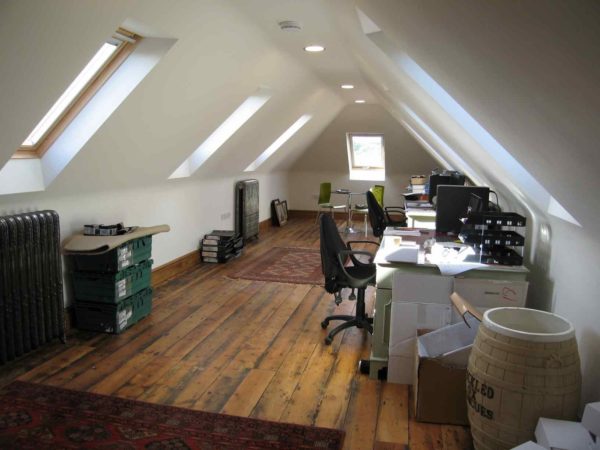 Timber vs. brick garages: Thermal performance and humidity
You want a garage, outbuilding, or carport that's comfortable — obviously.
Year-round comfort is crucial (particularly your outbuilding contains contains a leisure space); so too is an optimal environment for your cars and/or motorcycles. Excess heat and humidity can prove damaging to your prized possessions.
And when it comes to thermal performance, timber really steals a march over its fellow construction materials. Timber is naturally breathable, maintaining a more consistent temperature, condensation and humidity level than brick structures. This perfect for the storage of motor vehicles — attention classic car enthusiasts!
Check this analysis out from Make It Wood:
"Wood is a natural insulator due to air pockets within its cellular structure, which means that it is 15 times better than masonry, 400 times better than steel, and 1,770 times better than aluminum.

"Lightweight wood framing methods allow easy installation of additional fibre or foil insulation.

"As a result of this improved thermal performance, buildings produced using timber require less energy to heat and cool, resulting in reduced energy bills.

"In addition, timber is hygroscopic and has the ability to exchange moisture with the surrounding air which provides a buffer against short-term changes in humidity and temperature.
Both wood and brick garages can be supplemented with additional insulation material, too, boosting their natural thermal performance.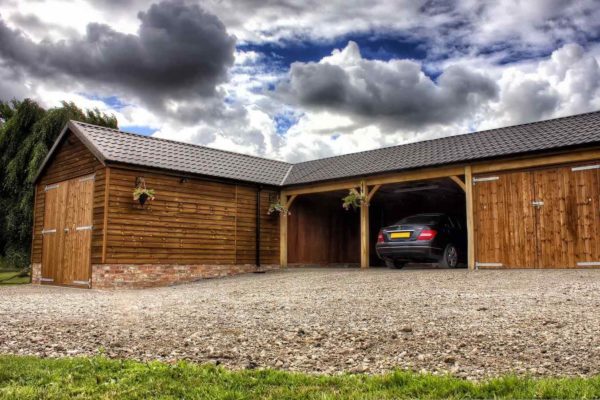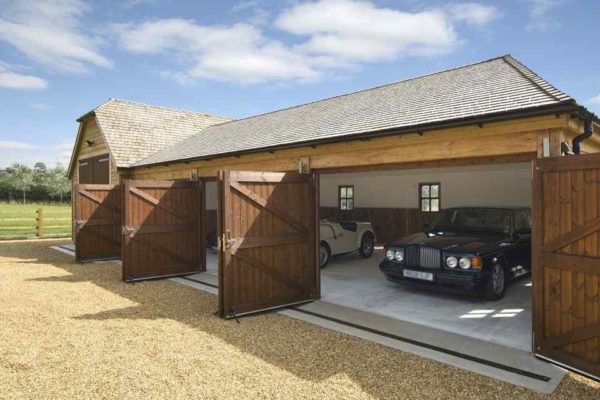 Timber vs. brick garages: Green performance
It's pretty hard to escape the climate crisis — so if you're feeling green, which garage construction material will benefit the planet the most?
As discussed, timber maintains a more stable temperature because of the air pockets in its structure and hygroscopic properties, meaning less reliance on heating and cooling (both of which consume non-renewable energy).
That's not to mention that timber is a 100% renewable material — when trees are harvested, more can be planted. This helps to fight global warming (more forests means more CO2 being absorbed)! Harvested wood also stores large quantities of CO2, helping to fight the greenhouse warming effect. Timber is also a fairly lightweight building material, keeping transport and fuel costs to a minimum.
Oh, and don't even get us started on the incredible energy-saving 'green' features that can be incorporated into bespoke timber garage designs, such as air-source heat pumps.
The creation of bricks and mortar, on the other hand, relies more on the use of non-renewable energy sources which, by definition, will eventually run out. Brick is also an energy-intensive material to construct with — it's costly to transport, and the processes by which these materials are created cause more pollution as compared to timber.
So, on sustainability, timber's the clear winner.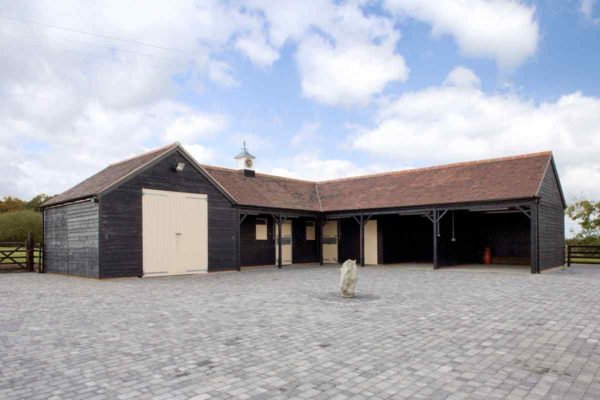 Timber vs. brick garages: Strength and structure
Wood's pretty flimsy stuff, right? How long will a timber garage last? Well, another thing about timber buildings that may surprise you: if well maintained, they can last for centuries. With the right construction, wood is a durable, resilient material that can also bear an incredible amount of weight.
Research by Cambridge and Warwick University finds that the nanostructure of timber gives its cells a 'glue-like relationship' which has even given birth to blueprints for timber skyscrapers — so it's fair to say that a timber frame is more than robust enough for a garage!
Brick, too, is an extremely robust method of construction, which has stood the test of time. You probably knew this already, though — bricks and mortar is solid.
Timber vs. brick garages: Fire and rot
If you asked people which building material is safer in a fire, we'd wager they'd choose brick over timber. It's the intuitive answer: after all, wood burns pretty easily, right? The truth, however, is much less clear cut.
When thick wooden posts and beams sets on fire, the exterior chars. This actually creates an insulator to fire spreading. Brick and masonry is fairly resilient to fire too, although if exposed to consistently high temperatures, can crumble.
The answer is that both perform well in the event of fire, as long as the building is constructed soundly, fire-proofed and the designers fully understand the materials they're working with.
It's a similar story for rot, too — you'd presume that because wood is a biodegradable material, a timber outbuilding would much more susceptible to rot. However, with modern construction materials and technologies, that's not true. Although cladding exteriors can decay if not properly protected, the frame is perfectly safe from attack. For fungal rot to take hold, you need a timber moisture content of 20% or more; a modern, timber-frame garage simply does not have the conditions to support fungi.
So, in terms of fire and rot, there's not really a great deal separating brick and timber garages.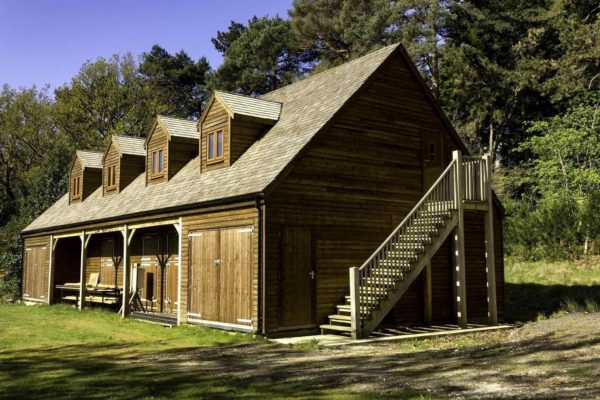 Timber vs. brick garages: Time
Because of the off-site element that is inherent to modular buildings, timber garages are usually less time intensive (although delays in frame construction can extend construction timescales).
Timber frame is a 'dry' construction process; the frame and other components are constructed off site, and then erected within a matter of days. This contrasts to bricks and mortar, a 'wet' process, usually resulting in lengthier on-site timescales.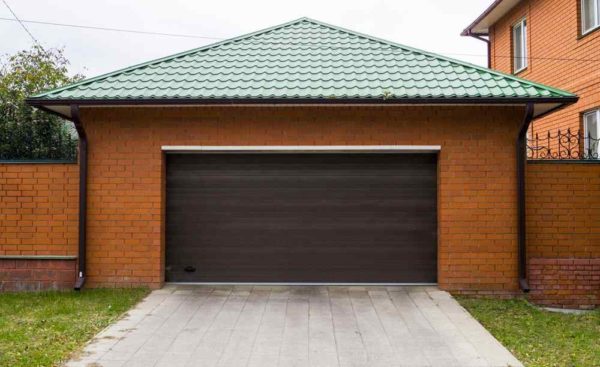 Timber vs. brick garages: Cost
As a general rule, timber frame garages come in at a similar price to those constructed using bricks and mortar.
Bricklayers are more abundant than timber architects (and therefore less costly), but timber construction means less time spent on site, allowing you to claw back some savings.
Whilst timber prices have been increasing over the past few years, when factoring in other savings (such as reducing heating and cooling), it's possible to make longer-term financial efficiencies with timber.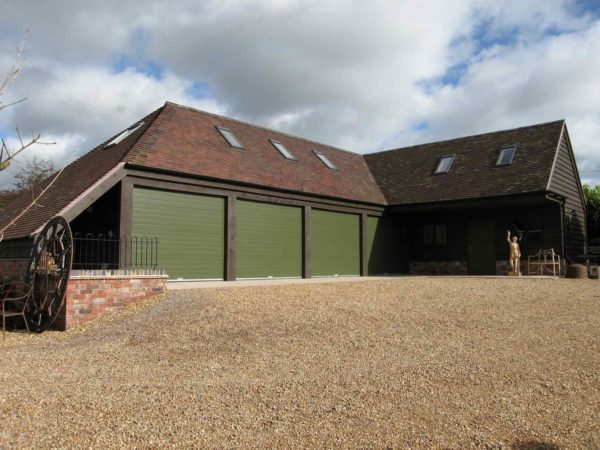 Timber vs. brick garages: Which is better for sound insulation?
If you're looking to make your garage a multi-use space, sound insulation is pretty important. After all, what good is your 'room above' home office if you can't concentrate?
In this regard, brick has an inherent advantage — it's a dense, thick construct. Things like this tend to help keep noise out. Lightweight timber doesn't quite perform to this same level.
Fortunately, if your garage is timber framed, it's still possible to achieve an excellent level of noise insulation — you just want to make sure that you have some sound absorbent material in the wall structure, such as mineral wool.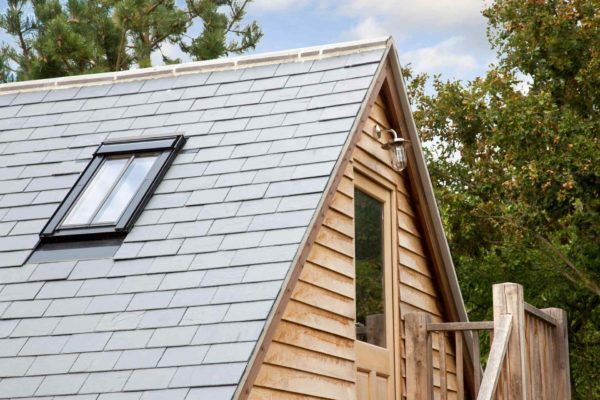 Brick vs. timber garages: Planning permission
Do I need planning permission for my garage? An oft-touted question. The answer is it depends. If your garage falls within certain criteria, it is considered 'permitted development', meaning you won't need to seek planning permission. This is usually true for smaller garage projects; much larger blueprints may not fall under 'permitted development rights'. The gov.uk website spills the beans.
Luckily, at The Stable Company we offer a Complete Care package — meaning we'll handle all of this for you, taking the stress out completely.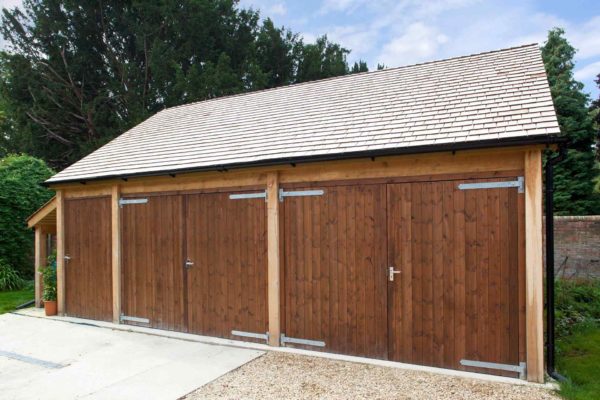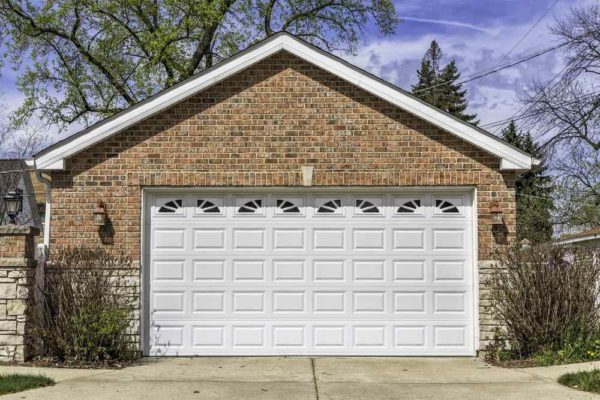 Contemplating your next garage project?
As a specialist designer of bespoke timber buildings, we're a little biased, but we think timber beats brick, hands down — it's more beautiful, sustainable, versatile and has better thermal properties.
Since 2002, The Stable Company has been designing dynamic, luxury timber outbuildings. Our service is fully bespoke; whether a single port or a more complex theme, the timber garages we create are designed down to the very finest details of their use, tailored to each client's requirements.
Using beautiful, sustainably-sourced timbers and the latest methods and technologies, these buildings are at the forefront of modern modular construction.
As we mentioned earlier, we're proud to offer a Complete Care package; this means we can handle the entire project, from initial designs, planning and manufacture through to the interior fitout. Before you know it, you'll have a brand new, shiny pair of keys to your timber garage.
If you think there's room for one of these beautiful buildings on your property, explore our garage design ideas and case studies from work we've completed. Contact our team for a no-obligation chat.
Go Back
View all Blog posts