Posted:
We recently completed a bespoke timber classroom block for Wylde Green Primary School - and it was unveiled by none other than TV star Emma Willis!
Emma, host of Big Brother, is a former pupil of the Sutton Coldfield school. She was joined by singer-songwriter husband Matt, from Busted. For the kids, you might be able to say this new timber build is 'What I Go To School For'!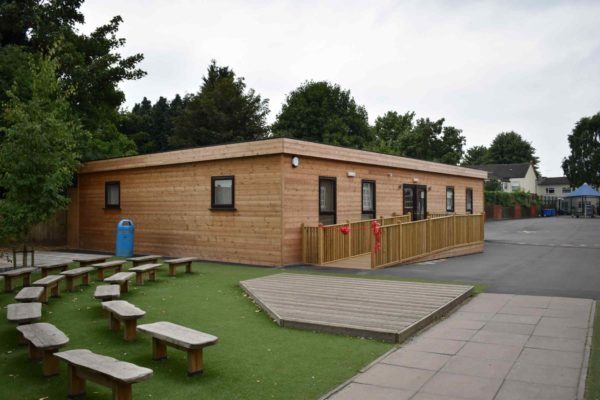 The completed build at Wylde Green Primary School
The new classroom block is for the Year Six children at the school. It enables them to move out of the school hall into a dedicated teaching space, containing two equal 52m² sized rooms, in addition to a lobby and entrance area. The build facilitates the achievement of outdoor learning objectives, representing a change of scenery for pupils and staff.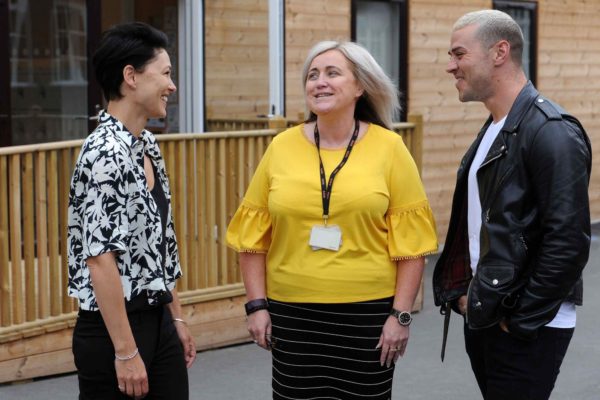 Emma and Matt with Head Teacher of Wylde Green Primary School, Donna O'Toole
The school itself is the oldest in Birmingham, with a main building that originally dates back to 1840. We designed the new facility with consideration for surrounding greenery as well as the existing Victorian architecture, creating much-needed learning space that the existing building was failing to provide.

Despite tight budgets and timescales, the school was in occupation of the build by the deadline of the Easter holidays 2017. Wylde Green took advantage of our Complete Care package, meaning we handled everything from planning permission through to the handover of the keys to the build!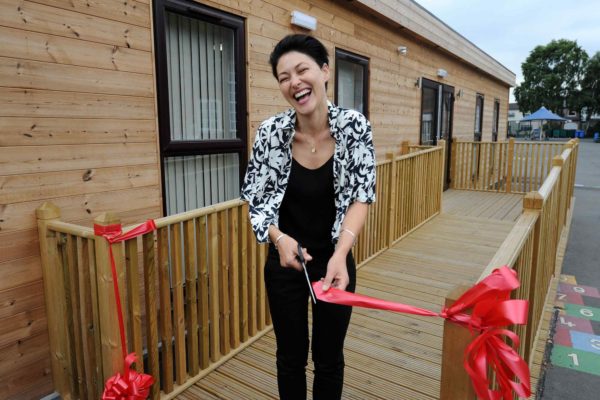 Emma cuts the ribbon on the new timber classroom block
We managed to get planning permission granted in only five weeks which, if you'll excuse us saying, is fairly impressive. It's safe to say that the school are thrilled with their new teaching space. Richard Hamilton-Martin, Deputy Head Teacher at Wylde Green, said:
"The building is fabulous - and it was fantastic to have Emma and Matt in for the great unveil. The positive comments from parents and visitors confirm we chose the right design and company. The new learning spaces have inspired our children, giving them a further sense of pride in their school."
So, there we have it - delighted teachers and pupils at Wylde Green. While they're settling into their new timber build, why not see what else we've been up to for our many clients in the education sector?
Go Back
View all Blog posts