Posted:
In pedagogy, there's a variety of methodologies that impact the student's productivity – behaviour modelling, reward and recognition, student collaboration, and many more.
However, external factors can impact the levels of productivity as much as internal motivation. The design of the classroom has a significant influence on the course of a lesson and how engaged the students are during it.
Today, we're going to take a look at the three design solutions that can help improve productivity in the classroom and boost the motivation to learn.
More on the Impact of Classroom Design on Productivity
There is no doubt that students can be more engaged in one classroom setting but completely distracted in another.
A study investigated the impact of classroom space on the students' productivity. Five Latina 10th grade students went from classroom to classroom during a school day, and the researchers observed their productivity levels. The study concluded that a classroom environment that was designed in a safe and multi-sensory way ended up to be the most favourable.
But which elements of classroom design can help achieve that effect?
Here are our suggestions.
1. The Lighting in the Classroom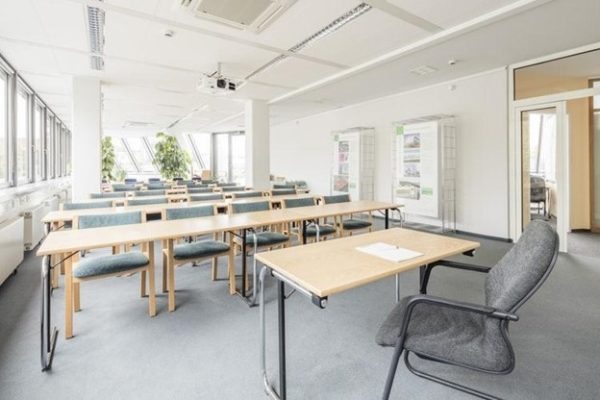 Credit: Unsplash
A well-lit classroom is essential for better productivity in the classroom. A 2017 study confirms this fact claiming that lighting positively impacts students' ability to concentrate on a task, regardless of whether the light is natural or artificial.
So, science has confirmed that, even though it's important to have enough natural light coming through the classroom windows, well-allocated artificial lighting is also has a positive effect on students' productivity.
But which artificial light source is the best one for the classroom?
The choice usually is between LED lights and fluorescent lighting.
Fluorescent lights are present almost in every college and university room. Such lighting systems were usually installed due to energy savings. Besides, fluorescent lights don't generate as much heat, helping to keep the classroom cool.
However, the studies have found that fluorescent lighting is not good for students' health, claiming that it can cause headaches and impair visual performance due to mercury that these lights contain. Naturally, productivity suffers as well.
Another disadvantage of fluorescent lights that impacts productivity is that they are omnidirectional and produce light at 360 degrees. In a favourable learning environment, at least half of the lighting should reflect and be redirected to the area that needs to be illuminated. Fluorescent lights don't have that ability, which makes them inefficient to properly light the classroom.
In their turn, LED lights have shown more efficiency. They have a longer lifespan, are more environmentally-friendly, and emit light directionally (at 180 degrees). The light quality is also better compared to fluorescent lighting.
When it comes to student productivity, one case study has also shown that LED lighting helps students remain engaged during a class. The LED lights in this study were installed with dimming controls, which helped the teachers adjust the lighting according to different tasks during a lesson.
So, for the sake of maintaining student engagement higher and energy costs lower, choose LED lighting for the classroom.
2. The Layout of the Furniture
Another important point in designing a productive classroom setting is the position of the furniture, mainly desks, and chairs.
At this point, the emphasis should be on creating a multi-sensory learning environment in which students can easily interact with each other and the teacher. An ideal productive classroom setting should trigger different sensors at once, which would help form associations with the topic under discussion.
However, one more factor that can impact the layout of the furniture is the activity that typically takes place in the classroom. Diana Adjadj, a writer and education expert at TrustMyPaper, says that different positioning of the furniture can facilitate a certain learning activity or, on the contrary, reduce its effectiveness to zero.
The following graph by eLearning Infographics also proves the point that different classroom activities require different furniture layouts: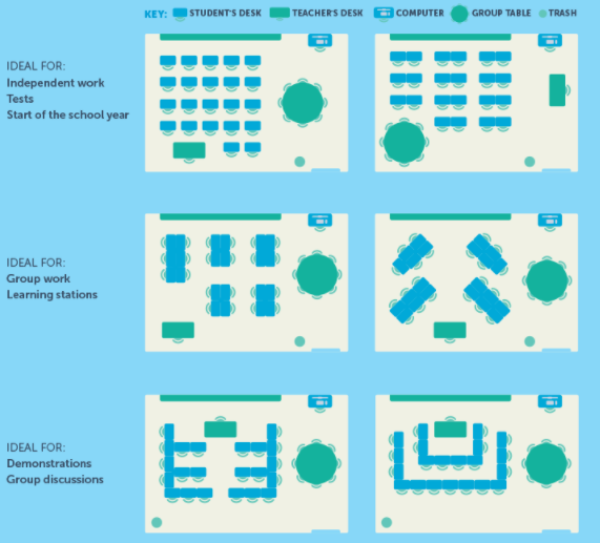 Credit: eLearning Infographics
So, the ideal classroom furniture layout should be determined based on the exposure to multiple sensors and the main activity that typically takes place in the classroom. But there is no doubt that the right choice of furniture layout can help improve productivity in students.
3. The Colours Present in the Classroom
Lastly, one more factor in classroom design that can positively or negatively impact productivity is the choice of colours.
Usually, the rule of thumb is to use calm neutral colours for the walls, floors, and classroom design elements. Studies also confirm that colours that contain less saturation or hue have a better effect on learning and productivity.
For instance, one study exposed post-graduate students to classrooms painted in chromatic (blue, green, etc.) and achromatic colours (grey, white, black). When it came to evaluating their performance, the researchers found that achromatic colours levelled-up productivity in students. Congruent colours, such as pink, have the same positive effect.
Thus, the choice of colour for design elements in the classroom has a significant impact on student engagement. So, be mindful when choosing the decorations for the classroom as well – they should not divert students' attention from the task.
Wrapping Up
It wouldn't be an understatement to say that classroom design has a significant impact on student productivity. Research has confirmed that students' ability to focus depends on external factors, which could either distract them or help them concentrate.
Specifically, elements like lighting, furniture layout, and colours present in the classroom have a significant impact on productivity.
When choosing the lighting, give your preference to LED because it emits natural light that helps students remain focused.
Speaking of furniture layout, pay special attention to the variety of sensors you want to expose your students to. Also, consider the activity that students are usually exposed to in your classroom setting.
Lastly, choose the colours for your classroom wisely. Avoid chromatic colours that have proven to divert attention. Instead, choose calm and neutral achromatic colours, which can significantly improve your students' productivity levels.
Author bio: Donald Fomby is a writer and contributing editor at SupremeDissertations. He partakes in different projects that allow them to grow his list of experiences and expand his interests.
Go Back
View all Blog posts